The World Academy of Sciences for the advancement of science in developing countries (TWAS) and the American Association for the Advancement of Science (AAAS) brought together 13 pairs of scientists and policymakers from 12 countries including Bangladesh, Ethiopia, and Tanzania in Trieste, Italy, for the 10th AAAS-TWAS Course on Science and Diplomacy. The aim of the course, launched in 2014 and with key funding from the Swedish International Development Cooperation Agency (Sida), is to ensure that the results of scientific research can be used in real-world policy decisions.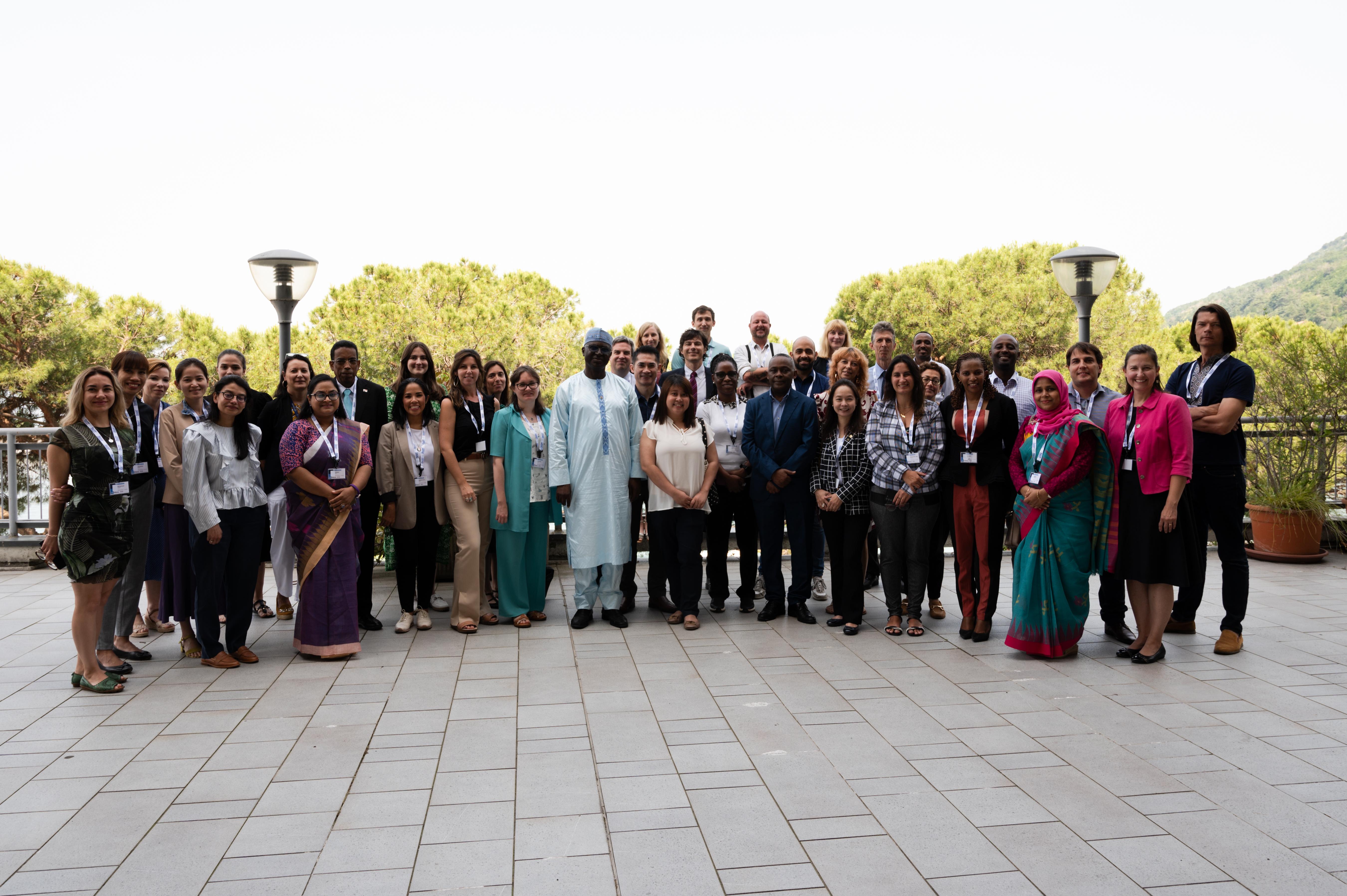 The course pairs participants to forge stronger links between researchers and decision-makers living or working in the same countries. This is the first time that an in-person AAAS-TWAS training event will welcome 'participant pairs' that include two professionals. One is an early-career scientist whose research and wider engagement has international policymaking implications or applications. The other is a policymaker working on science, technology, and innovation-related matters – such as a local or national government official, a policymaker, a diplomat or a representative of a research funding institution.
"Today, we confront formidable challenges, ranging from the climate crisis and the alarming loss of biodiversity to armed conflicts and pandemics. Nevertheless, I maintain a steadfast belief that by harnessing the power of science diplomacy, scientists and policymakers can collaborate effectively to discover and implement evidence-based solutions," said Quarraisha Abdool Karim, TWAS president.
The course will include sessions on different hot topics, such as 'Science for Diplomacy: Cases of Collaboration in Times of Diplomatic Tension'; 'Science in Diplomacy: The Role of Science and Scientists in Addressing Food Insecurity in the World' (featuring Trieste-based course alumnus Felix Moronta Barrios, Senior Programme Assistant at the International Centre For Genetic Engineering And Biotechnology); and 'Diplomacy for Science: Protecting Global Commons through Ocean Diplomacy'.
"We have recently inaugurated the festivities commemorating the 40th Anniversary of TWAS. Since 1983, we have evolved into a significant force, making substantial contributions to scientific capacity-building in the developing world, graduating over 1000 PhDs across the developing world. Looking ahead to the next 40 years, our paramount challenge is to ensure that the scientific advancements generated in the Global South are effectively translated into actionable solutions," said Romain Murenzi, TWAS executive director.
Among the in-person speakers of this year's course are H.E. Muhammadou Kah, ambassador of the Republic of The Gambia to Switzerland and UN Organizations in Geneva; Kim Montgomery, director of international affairs and Science Diplomacy at AAAS; Luke Clarke, head of international affairs – Americas, International Organisations and Africa at The Royal Society (UK); and Anna Pirani, head of the Technical Support Unit of Working Group 1 of the Intergovernmental Panel on Climate Change (IPCC).
In welcoming this year's participants, Sudip Parikh, CEO of AAAS and executive publisher of the Science family of journals said, "This course builds bridges between the scientific and foreign affairs communities. I encourage scientists and policymakers to take advantage of this unique opportunity and think of ways both fields can work together in science diplomacy to address our pressing challenges."
Today, 344 alumni of the AAAS-TWAS Science Diplomacy Course are now influencing policy and spreading knowledge about the fast-growing science diplomacy field throughout the developing world.
Note for editors
Journalists are invited to attend the course on Tuesday 20 June from 9:00 a.m. to 12:45 a.m. The full programme of the workshop is available at this link.
What is science diplomacy?
Science diplomacy takes many forms: When nations come together to negotiate cooperative agreements on fisheries management or infectious disease monitoring, they need scientific expertise. When scientists come together for complex multi-national projects in astronomy or physics, their nations devise diplomatic agreements on management and financing. And when political relations between two nations are strained or broken, joint research efforts can give them a way to keep talking – and to build trust.
About TWAS
For 40 years, The World Academy of Sciences for the advancement of science in developing countries (TWAS) has been a leading force in developing crucial scientific capability in some of the most underdeveloped countries in the world.A global science academy founded in 1983 in Trieste, Italy, TWAS supports sustainable prosperity through research, education, policy, and diplomacy. With its partners, it has graduated over 1,000 PhDs and offered hundreds of postdoctoral fellowships to developing world scientists. The Academy also hosts prestigious scientific awards in the global South, has offered numerous research grants, and supports exchange visits for scientists. TWAS is a programme unit of UNESCO. More information: www.twas.org.
About AAAS
The American Association for the Advancement of Science (AAAS) is the world's largest general scientific society and publisher of the journal Science, as well as Science Translational Medicine; Science Signaling; a digital, open-access journal, Science Advances; Science Immunology; and Science Robotics. AAAS was founded in 1848 and includes more than 250 affiliated societies and academies of science, serving 10 million individuals. The nonprofit AAAS is open to all and fulfills its mission to "advance science and serve society" through initiatives in science policy, international programs, science education, public engagement, and more. For additional information about AAAS, visit www.aaas.org.