Science for development is more important than ever in this consequential time, said former Mauritius President Ameenah Gurib-Fakim during the ninth annual science diplomacy course organized by The World Academy of Sciences (UNESCO-TWAS) along with the American Association for the Advancement of Science (AAAS) from 25 July to 3 August. In an inspiring keynote speech, she touched on many of the challenges facing scientists and policymakers today—with a special focus on Africa and the promise of its young population.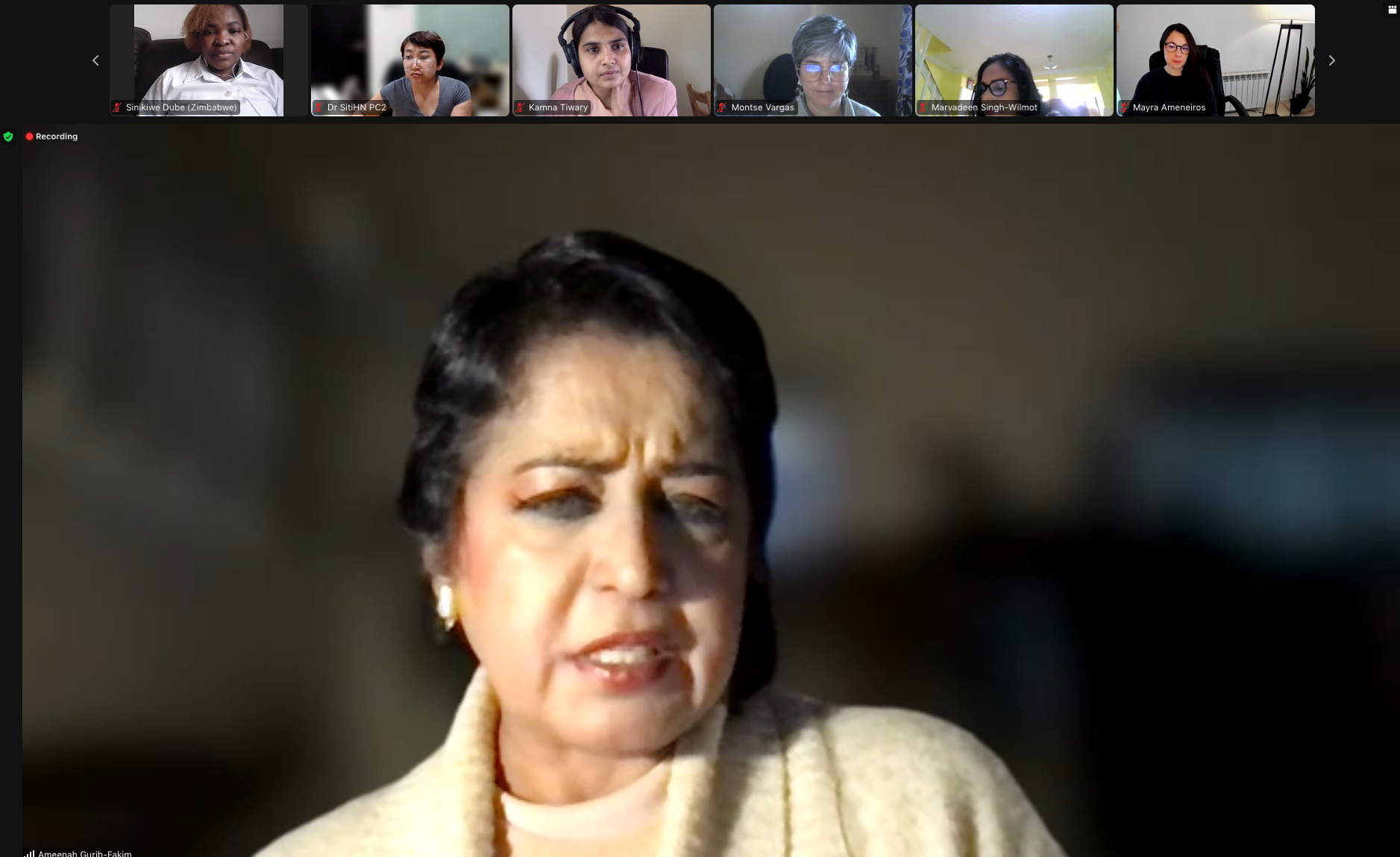 Gurib-Fakim was the African country's sixth president, serving from 2015 to 2018. She was the first woman elected to that position. As an internationally recognized expert in biodiversity and sustainable development, she received, in 2007, the L'Oréal-UNESCO For Women in Science International Award for her work with plants from Mauritius and their biomedical applications.
The 2022 AAAS-TWAS Course on Science Diplomacy was held entirely online for the third time, and welcomed 50 participants from 25 countries spanning from Costa Rica to Kenya, from Sri Lanka to Zimbabwe. The course pairs up scientists with policy experts, as the former learn to navigate the connection between science and diplomacy through lectures, workshops and simulated scenarios.
In her remarks, Gurib-Fakim painted a picture of Africa's role in the world, while the continent, at the same time, pursues a sustainable future. Africa, as well as other regions of the global South, she said, need robust, inclusive, sustainable growth to meet its targets on reducing poverty. And these efforts will be complicated by issues such as rapid urbanization and climate change. And so, Africa needs to experience rapid growth in its capacity to train scientists and produce research.
"This is only a fleeting snapshot of the major challenges facing our continent and beyond. There are more," she said. "But, as an African scientist I lament that sub-Saharan Africa, with 12 per cent of the global population, only accounts for less than 1 per cent of the world's research output."
She pointed out that Africa has a resource to aid its socioeconomic transformation: a young population representing a growing labour force. She noted that by 2034 the continent is expected to have the world's largest working age population, about 1.1 billion.
"Reaping this potential demographic dividend will require sustained and inclusive, people-centred investment to shape an innovative workforce that can help economies to advance towards knowledge-intensive economies," she explained. "Why is it important to attract youth? Sub-Saharan Africa has the advantage of 11 million young people entering the labour market every year, representing unrivalled brainpower." 
She added that, while Africa currently represents 15 per cent of the global population, it is home to only 1.3 per cent of the global investment in research and development. The low scientific workforce is a major puzzle for the world's scientists, policymakers and diplomats to find a solution for. 
"There is no doubt that these predicaments slow development. Yet, the use of indigenous scientific discoveries emanating from university research could help address the myriad of challenges impairing the everyday lives of millions," she noted. But she emphasized that hope is not lost: "We have compelling grounds for optimism, as public and private sectors ramp up scientific investment in the coming years. The continent's economic growth can be attributed to a rise in a new generation of political leaders who are technically trained and passionate about promoting good governance and creating the democratic space for economies to thrive."
Gurib-Fakim's keynote speech, and the question-and-answer session that followed, was part of the opening day events for the course. It was preceded by a collection of welcoming remarks from numerous distinguished speakers, including UNESCO-TWAS Executive Director Romain Murenzi; AAAS CEO Sudip Parikh; Assistant Secretary of State for Oceans and International Environmental and Scientific Affairs of the United States Monica Medina; and Deputy General Director/Central Director for integrated promotion and innovation Cecilia Piccioni, of the General Directorate for the Promotion of the Country System, Ministry of Foreign Affairs and International Cooperation of Italy. 
Sean Treacy