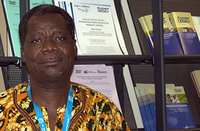 Felix Korbla Akorli was an early recipient of an award under the fledgeling TWAS South-South Fellowship programme, which has since become well established with 14 partners in nine countries. At the time Akorli received the award in 1995, however, the programme was still in its early years. 
Akorli was born in Ghana and did an MSc in medical engineering at the Technical University of Sofia in Bulgaria before taking up the TWAS fellowship to study radio propagation at the Pontifícia Universidade Católica do Rio de Janeiro (PUC) in Brazil from 1995 to 1999. Akorli's fellowship was for a full four-year PhD programme and was sponsored by the Brazilian National Council for Scientific and Technological Development (CNPq), which has become one of TWAS's established programme partners. "I was the only African doing a PhD at PUC at that time," he says proudly. 
"I had various options but, for me, Brazil was the obvious choice, because it is on the equator and so I could do research on radio propagation related to the tropical environment. I wanted to do research that I could apply back home."
Radio propagation describes the behaviour of radio waves when they are transmitted from one point on the Earth to another, or into various parts of the atmosphere. Telecommunications systems in general (including broadcast frequencies, mobile phone systems, radio navigation and radar systems) depend on radio propagation which itself is affected by such factors as the amount of water vapour in the troposphere and by ionization in the upper atmosphere caused by solar radiation.
Akorli was interested in how the tropical conditions of his native Ghana might affect radio propagation. This, in turn, would enable him to carry out further research in order to improve telecommunications in Ghana by designing reliable mobile telephone systems. 
"Many countries in the developed world have already done research which has defined the parameters they use when designing telecommunications equipment. A lot of work has also been done in Brazil for the tropical areas, and by India and China because they extend into the equatorial region. But this research had not been done in Africa," explains Akorli.
"In Africa, we can only use extrapolated data from the International Telecommunications Union (ITU) and as a result our networks don't function as well as expected because they are based on data that is not entirely relevant."
After completing his PhD, Akorli returned to Ghana to research and teach telecommunications at the Kwame Nkrumah University of Science and Technology (KNUST). Then, in 2002, he was released from his teaching position and sent to the National University of Rwanda (NUR) to support graduate students there.
"During the post-war, post-genocide period, my university in Ghana (KNUST) and the National University of Rwanda (NUR) signed a memorandum of understanding," he explains.
"In fact, Rwanda is a very young country. Everything had to start again after 1994. Policies were put in place that have been followed to the letter. In higher education everything is being done systematically. It is because of the education policy – that was in fact put in place by, among others, Romain Murenzi, who is now the executive director of TWAS – that they introduced the Master's programme in ICT at the National University of Rwanda. And apart from that, the policy of the government is to build on ICT so they have pushed the subject very hard."
In fact, the Rwandan government, under the leadership of President Paul Kagame, initiated a series of three five-year National Information and Communication Technology (ICT) Plans. The first plan, from 2001 to 2005, created policies intended to develop the framework and regulations for ICT. The second, from 2006 to 2010, focused on infrastructure, including laying fibre-optic cables throughout Rwanda. The third plan, which runs from 2011 to 2015, is focused on providing services that make use of the new technology. 
Akorli was particularly involved in the first phase. "I was invited to NUR two or three times in 2002. They were starting up a Master's programme in ICT. From 2003, I was asked to stay on teaching and coordinating the programme – and that's where I've been for the last nine years."
Akorli explains that, while there is a great need for science capacity building in his native Ghana too, the opportunities to develop ICT in Rwanda are very exciting and there is a need for continuity to really establish a strong programme. "Some of my students who did the Master's programme will soon be completing their PhDs – and that's when I can go back to Ghana – when the programme is really established."
Akorli admits that there were challenges in setting up such a programme. "This was the first Masters programme in ICT in Rwanda. The students were pioneers. Of course they hesitated and wondered if they should go to the United States or India like their predecessors." When asked how he persuaded them to stay, Akorli is very clear. "Persuasion doesn't work. What you need is actual evidence that the programme is competitive. When the students started graduating and getting good positions in universities and businesses, that was the best form of persuasion. They have been selected for good positions among many high quality applicants. Mostly they have gone on to take up positions in Rwanda – so they are contributing very effectively to the economy."
Given the success of the programme, Akorli is clearly delighted to announce the next phase: "Now we are reviewing our content and syllabus and we are going to introduce an in-house PhD programme."
So would Akorli encourage students from developing countries to apply to the TWAS South-South Fellowship programmes?
"The level of teaching at PUC in Rio de Janeiro when I attended in 1995 was as high and the facilities were as good as many institutes in the North I have visited since then. Most of the professors there were trained in the United States", he says.
"Apart from that," adds Akorli, "there are actually advantages of going South to South – you're looking at similar problems that you can then apply to your situation – it makes sense. Then you can make a difference. And there is less of a culture shock too.
"In fact, apart from the TWAS fellowship programmes, I would encourage some of my colleagues to consider applying to other exchange programmes offered by TWAS so they can top up their knowledge and expertise and return home stronger."