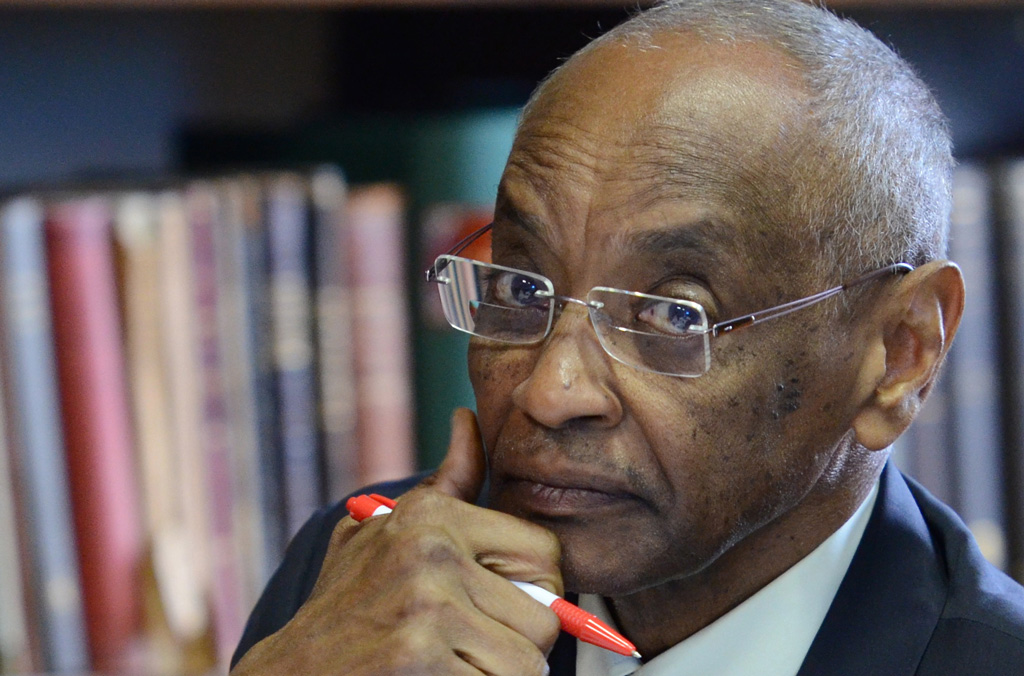 TWAS founding Executive Director Mohamed H.A. Hassan received one of seven Science Forum South Africa 2016 Science Diplomacy Awards today in recognition of his career achievements in using science to foster international cooperation and friendship.
The award was announced Friday by South African Minister of Science and Technology Naledi Pandor during the closing ceremony of the annual Science Forum South Africa in Pretoria, South Africa.
"I am sincerely grateful and humbled to receive this award from my colleagues in South Africa," Hassan said. "Of course such an honour would be impossible without partners, because partnerships are the essence of diplomacy. And so I count myself lucky for the many committed and very capable colleagues I have worked with over the years – they have been co-authors of everything that we have achieved."
Hassan was an early-career Sudanese mathematician when TWAS Founder Abdus Salam, a Nobel-winning Pakistani physicist, recruited him to come to the International Centre for Theoretical Physics in Trieste, Italy. In 1983, Salam asked him to help run the campaign that would bring TWAS – originally the Third World Academy of Sciences – to life. This was an ambitious idea, especially then, because it was still the era of the Cold War, and few global political leaders recognized how science, technology and engineering could be crucial to the advancement of developing nations.
Hassan soon became TWAS's founding executive director, and he dedicated himself to building the Academy from the ground up. Across more than a quarter-century, he used his experience and diplomatic skill to build global networks that helped establish the foundations for scientific research throughout the developing world. He was instrumental in organisations and events that brought together scientists and policymakers from the South. And he was a leading figure in bringing the InterAcademy Partnership to Trieste, where it serves as a unified voice of some 130 global science and medical academies.
He also maintained constructive relationships with the government of Italy and the Swedish International Development Cooperation Agency (Sida), which have provided key funding to the Academy and its programmes.
After retiring as executive director in 2011, Hassan continued to serve as TWAS treasurer until the end of 2015. He is currently the interim director of the Academy during a period of leadership transition. He also serves as president of IAP and president of the Sudanese National Academy of Sciences. He formerly served as chairman of the Council of the United Nations University and as president of African Academy of Sciences.
Science Forum South Africa is a public science event organised by the nation's Department of Science and Technology to promote conversations about science – in South Africa, Africa and globally. This is the second year the event has been held, and also the second year of the science diplomacy awards.
Sean Treacy