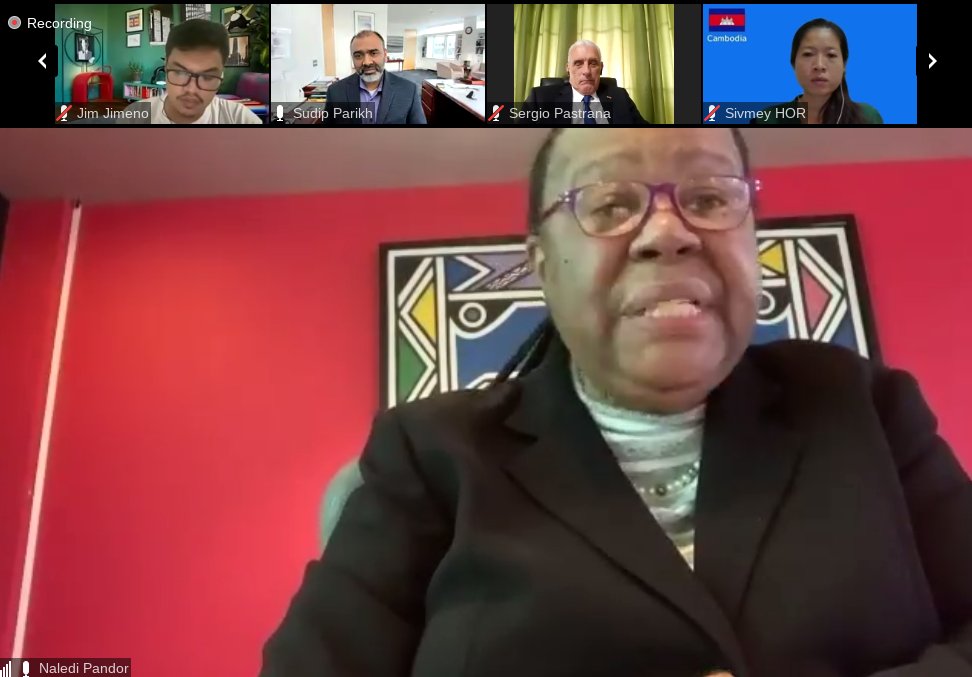 South Africa's Minister of International Relations and Cooperation, Naledi Pandor, had an important message to the attendees of the annual science diplomacy course organized by TWAS in collaboration with the American Association for the Advancement of Science (AAAS): More than ever before, global solidarity and multilateralism are needed to build a world where nobody is left behind, and science diplomacy will be part of that formula.
Pandor was the keynote speaker at this year's AAAS-TWAS Course on Science Diplomacy. A globally respected initiative in its field, the course was held from 27 August to 3 September and, for the second year, was entirely virtual. 
Before her current post, Pandor has served in numerous cabinet positions since 2004: as Minister of Education, Minister of Science and Technology, Minister of Home Affairs, Minister of Science and Technology and Minister of Higher Education and Training. She attended and spoke at multiple TWAS General Meetings, including the twentieth, held in Durban in 2009, and the twenty-sixth, in Vienna, in 2015. She is also the winner of the 2016 AAAS Award for Science Diplomacy.
Sudip Parikh, AAAS CEO and Executive Publisher of the Science family of journals, engaged in a conversation with Pandor where they delved into her role as South Africa's top diplomat and the African nation's science diplomacy strategy. Parikh praised Pandor's leadership in promoting multilateralism and responding to the COVID-19 pandemic, where she has called for affordable COVID-19 vaccines.
Pandor said that COVID-19 has prompted governments that haven't paid attention to science diplomacy to reconsider. Policy and science are clearly connected in this pandemic like never before, because policymakers and scientists need to work together on pressing tasks such as acquiring and delivering vaccines. 
"For me, the COVID-19 pandemic has been a very interesting interlock between science and diplomacy, and I find it a fascinating study of the area of the course that you are focusing upon," Pandor said to attendees. "But our world, as always, needs better and better science diplomacy and science advice, and so, I do think a course such as this one is extremely important and I think the two organizations—TWAS and AAAS—are to be congratulated for investing in training the next generation of science diplomats."
Pandor said that science is core to all the major challenges that societies face and governments must find responses to. COVID-19 is an example of such a scientific conundrum, as governments everywhere puzzle over how to make best use of scientific advice.
"For us, successful diplomacy requires authoritative scientific advice, and I believe international cooperation is more crucial than ever for the progress of science," she said. "The best science I have seen comes from a mix of participants from a range of countries."
She argued that the time of individualized science productivity has come to an end. To produce the best science, scientists and policymakers need to understand the diverse range of contexts and interests involved in any issue, and then bring together diverse scientific minds to deliberate. They will also need to share infrastructure for research.
"Some countries believe they have the ability to work alone. But as I've said, the best science comes from cooperation and collaboration," Pandor explained. "This means increased international cooperation is vital." 
She added that science diplomacy would be useful to helping build a more equitable, just and caring world. Science has values related to integrity—such as objectivity, honesty, fairness, accountability and stewardship—that are also values people might expect to see in governance as well. 
"If we don't cooperate, then we believe the solutions, the products, the responses we develop are for our use alone, and we don't take account of the rest of the world," she said. "But if we are working on the basis of diplomacy, then we understand that what we develop must impact equally on everyone."
"If there was more science diplomacy in the development of the vaccines [....], we would have made sure that we provide vaccines as a public good," she elaborated. "But because we still see ourselves in narrow, nationalist terms, we deny science the global impact that it should have."
Governments can sometimes take scientists for granted, she said. The presence of scientists in legislative environments makes a big difference, though, as does an openness to international partnerships. South Africa's Square Kilometre Array (SKA) radio telescope project, which hosts telescopes in both South Africa and Australia and involves a partnership with eight more countries, is an excellent example of this. 
Pandor said part of the reason SKA has been a successful international collaboration is because scientists had a leading role in defining the nature of the programme. And a collaboration throughout the world was needed to make it a reality.
"It draws together countries that are very far away from each other. And our scientists, because the world wants an international partnership in this project, they have compelled us to work together," she said. "There was great competition, but once it was decided that the two countries—South Africa and Australia—would deliver the sites, they all found the means of working together appropriately."
Pandor noted that it's also important to welcome women into scientific fields. She recalled that she was successful in bringing women into male-dominated fields by limiting the application process to women. This proved an effective way to demonstrate that qualified women exist, no matter the seniority requirements of the position.
"We still continue to be influenced by our social norms, discriminating against particular groups," she said. "So, diversity must be recognized as an important imperative in our policy, and I think we should ask questions when we don't see diversity."
When asked how much of science diplomacy was about building relationships, her answer was that it was key to all of it. 
"You cannot do all this work without building good relations and having friends that you stay in contact with," she said. "I think we should learn that when we meet others, our intentions should be shared, and we should find ways of working together."
Sean Treacy