Top leaders of the Islamic Development Bank (IDB) and The World Academy of Sciences (TWAS) agreed Monday to explore cooperative projects in a range of areas important to scientific progress and development. The agreement will focus on 57 
IDB countries
, ranging from Asia and the Middle East to Africa and South America.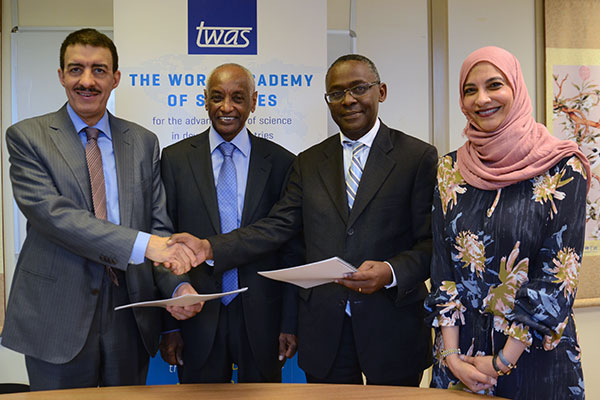 The memorandum of understanding was signed at a ceremony in Trieste, Italy, by His Excellency 
Dr. Bandar Hajjar
, president of the IDB Group, and TWAS Executive Director Romain Murenzi. The ceremony also included Hayat Sindi, IDB adviser for science, technology and innovation, and Mohamed H.A. Hassan, TWAS's founding executive director, who worked closely to develop the accord. 
Under the agreement, the Bank and TWAS will work to develop cooperative activities in four key areas: 
Fellowships and grants focused on sustainability challenges in the developing countries relevant to the United Nations Sustainability Development Goals (SDGs). This could include a programme of postdoctoral fellowships for young researchers in the 25 Least Developed Countries that are included in the IDG membership. The fellowships would be at centres of excellence in developing countries and could include grants for joint research projects in IDB member countries in areas related to the SDGs;  
High-level training workshops, particularly in the areas of science-policy-diplomacy and science communication; 
Support for refugee scientists, possibly including programmes that identify refugee and displaced scientists from IDB member countries and provide them with support to advance their careers and their capacity to address development challenges that IDB member countries are facing; and 
Developing databases or websites focused in two areas: science-technology-innovation (STI) needs in each of the 25 LDCs in the IDB membership in terms of infrastructure, qualified staff and technicians, and developing a catalogue of the most accomplished scientists in the IDB member countries. 
"To move the STI agenda forward, we want talented students to specifically focus on the SDGs," said H.E. Dr. Bandar. "The prime mover of SDGs as agreed on by all UN member countries is STI. This alignment of STI and the SDGs is really important to the Bank.
"To get the best impact, our Bank not only wants to direct talented students from member countries towards the SDGs, but wants them to be equipped with excellent training, too. Then the student will return home to bring an overwhelming positive impact back to our member countries. To do this, we need to engage the very best scholarships programme for maximum impact, and this is the reason why we want to sign an MOU with TWAS – so we can get top results for the SDGs in our member countries." 
Added Murenzi: "TWAS is extremely proud and grateful to announce this new partnership with the Islamic Development Bank. The agreement holds enormous promise to create new activities which would advance science and support sustainable prosperity for communities across much of the developing world."  
The Islamic Development Bank
, founded in 1974, works to foster the economic development and social progress of member countries and Muslim communities in accordance with the principles of Islamic Law. It has made significant investments in areas related to science and science capacity, as well as in infrastructure and education. 
IDB is based in Jeddah, Saudi Arabia. It has regional offices in Rabat, Morocco; Kuala Lumpur, Malaysia; Almaty, Kazakhstan; and Dakar, Senegal. It also has country gateway offices in Ankara, Turkey, and Jakarta (Indonesia), plus field representatives in 14 member countries.
The memorandum of understanding was signed at TWAS headquarters in Trieste, Italy, on the campus of the Abdus Salam International Center for Theoretical Physics (
ICTP
). The brief ceremony came at the start of a day-long visit by H.E. Dr. Bandar and an IDB delegation to TWAS and ICTP.
The delegation also met with ICTP Director Fernando Quevedo; Tonya Blowers, Coordinator of the Organization for Women in Science for the Developing World (
OWSD
); Peter McGrath, coordinator of the InterAcademy Partnership (
IAP
); and Maria Luisa Fichera, representing Mauro Giacca, director-general of the International Centre for Genetic Engineering and Biotechnology (
ICGEB
).
H.E. Dr. Bandar also met with ICTP scientists and students from the IDB countries.
Edward W. Lempinen