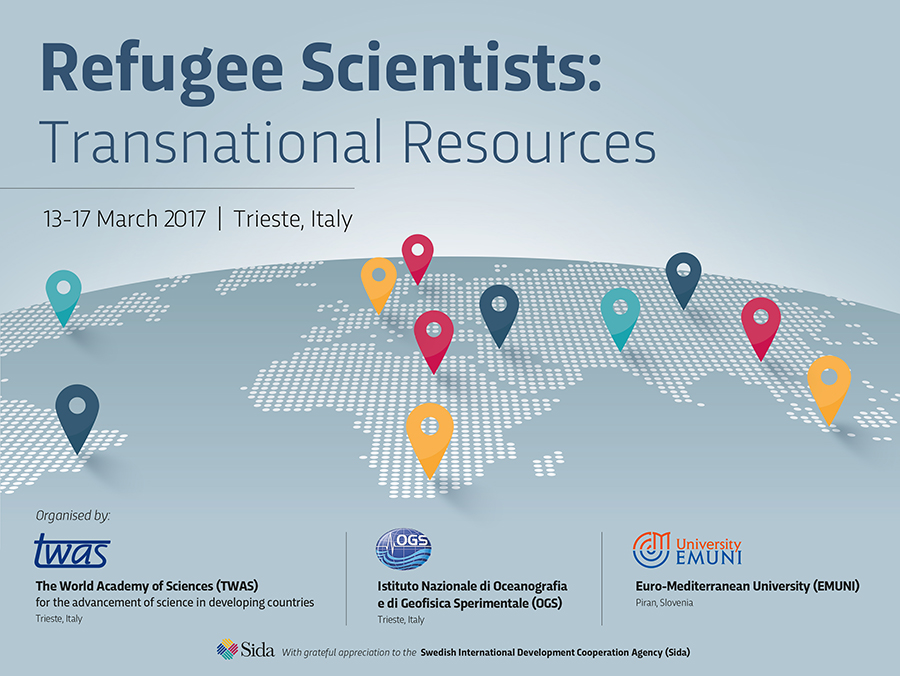 They are climate scientists and chemists, medical doctors, agricultural specialists and advanced students. They and countless other scientists were essential to strong communities in nations such as Syria, Yemen, Libya, Afghanistan and Iraq – until they were turned into refugees by lethal conflicts at home.
From 13-17 March, TWAS and its partners are convening an international workshop to explore issues related to refugee scientists. The invitation-only meeting will feature several refugee scientists, along with policymakers and the leaders of scientific and refugee-support organisations.
The workshop is among the first ever to assemble leaders from North and South to discuss the adversities faced by refugee scientists and what can be done to assist them. It is co-organised by Istituto Nazionale di Oceanografia e di Geofisica Sperimentale (OGS), based in Trieste, Italy, and Euro-Mediterranean University (EMUNI), based in Piran, Slovenia.
"This is an issue of very high importance, both in the Middle East-North African region and in Europe," said Mohamed Hassan, the interim executive director of TWAS. "For more than three decades, our Academy has worked to build scientific strength in the developing world. Today, it is important that we help to bring North and South together to assess how to best support these scientists and their work."
OGS President Maria Cristina Pedicchio said it is "extremely important" to help refugee researchers find appropriate work. "We believe that their skills and experience should not be lost and we strongly encourage them to struggle and overcome all obstacles and to preserve their scientific knowledge, both for their careers and for the benefit of their new home countries," she said. "It is also important to raise public awareness on the plight of refugee scientists and create all necessary conditions to support their integration."
EMUNI President Abdelhamid El-Zoheiry added: "In today's interconnected and dynamic world, diplomacy is not exclusively practiced by the conventional state actors. We should regard science diplomacy as a tool for foreign policy, as an instrument to advance the scientific research and as a platform for inter-cultural dialogue and tolerance."
The workshop is being held at the Abdus Salam International Centre for Theoretical Physics in Trieste. It will also feature high-ranking representatives of UNESCO, the Italian Ministry of Foreign Affairs and International Cooperation, and the Municipality of Trieste. The Swedish International Development Cooperation Agency (Sida) has provided key support for the event.
Since the early part of this century, and especially in the past five years, millions of refugees have fled from instability and war in Afghanistan, Iraq, Libya, Yemen and other areas of the Southern Mediterranean/Arab region. In Syria alone, a savage civil conflict has displaced some 11 million people; more than a million have requested asylum in Europe.
Exactly how many scientists and engineers have fled conflicts in the Middle East and North Africa is not known. While hundreds are estimated to have resettled in European countries, others have traveled as far as Malaysia, South Africa and Canada to rebuild their lives. Others are essentially stuck in makeshift camps and communities that have developed in Jordan, Lebanon and Turkey.
Sahil is one who arrived in Europe after a perilous journey from Afghanistan. Even now, though, he will speak only on the condition of anonymity because his family remains at home. He has a master's degree in finance, and he formerly administered an agricultural programme that received funding from developed countries.
Extremists often targeted people who worked with partners from the North: He lost a family member and friends to violence, and then survived an attempt on his own life. That's when he decided that he had to leave, joining thousands of others on the road to an uncertain future.
"There are scientists and professionals among those refugees," Sahil says. "These professionals are like grown-up trees with fruits and they could contribute a lot to their new countries. By giving them recognition, this meeting could alter the negative perception that some people have about refugees."
Like him, many of these scientists and students in science-related fields were important to the strength of their countries – in medical care, for example, and in research ranging from food and energy production to environmental protection and computer programming. Many expect to return home someday and to have a role in rebuilding their countries, but they must have a way to keep their knowledge and skills up to date and build their professional networks. 
The workshop will look at range of issues, including: existing scientific institutions and programmes that support refugee scientists; national policies affecting refugee scientists; and the experiences of refugee scientists who have returned to their home countries. The workshop will also assess areas of research that could be pursued to improve understanding of the refugee scientist phenomenon.
At the close of the workshop, participants are expected to release a formal statement of recommendations. 
Edward W. Lempinen