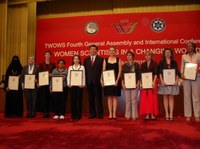 The announcement was made today at the Third World Organization for Women in Science (TWOWS) 4th General Assembly and International Conference, 'Women Scientists in a Changing World', hosted by the Chinese Academy of Sciences (CAS) in Beijing from 27-30 June 2010. Each winner will receive a cash prize of USD5,000.
Through a grant from The Elsevier Foundation, the TWOWS Awards for Young Women Scientists were expanded to cover three disciplines in each region – biology, chemistry and physics/mathematics. The grant was made as part of The Elsevier Foundation New Scholar's programme, which supports programmes for women scholars during the early stages of demanding careers in science and technology. After a rigorous review by the four regional TWOWS committees, shortlisted candidates in each discipline were nominated and subsequently ranked by the regional vice-presidents and Kaiser Jamil, the current TWOWS president.
The twelve winners are:
Biology: ZENG Fanyi of Shanghai Institute of Medical Genetics in Shanghai, China
Chemistry: Ilkay ORHAN of Dept. of Pharmacognosy, Gazi University in Ankara, Turkey
Physics/Mathematics: Priya MAHADEVAN of S.N. Bose National Centre for Basic Sciences in Kolkata, India
Biology: Uchechi EKWENYE of Michael Okpara University of Agriculture, Umudike in Nigeria
Chemistry: Ndidiamaka Anthonet EZEJIOFOR of Department of Pharmacology, Abia State University Teaching Hospital in Abia, Nigeria
Physics/Mathematics: Christine Margarete STEENKAMP of University of Stellenbosch in Stellenbosch, South Africa
Biology: Ghada ABDEL-SALAM of National Research Centre in Giza Egypt
Chemistry: Lilyan ALSAKA of Environmental and Pollution Control Research Centre, Mosul University in Mosul, Iraq
Physics/Mathematics: Sakina Fakhraddin Adam ALI of Department of Physics, Sana'a University in Sana'a, Yemen
Biology: Myriam Adela AMEZCUA-ALLIERI of Mexican Institute of Petroleum in Mexico City, Mexico
Chemistry: Aramis RIVERA of Institute of Science and Technology of Materials, University of Havana in Havana, Cuba
Physics/ Mathematics: Aimé PELAÍZ-BARRANCO of Physics Faculty, University of Havana in Havana, Cuba
"It gives us great pleasure to announce the twelve recipients of the TWOWS Awards for Young Women Scientists, says Kaiser Jamil, President TWOWS. "The recognition that this provides will undoubtedly provide an invaluable boost to the promising careers of these young women scientists. TWOWS extends a warm thanks to The Elsevier Foundation for making this possible."
"The Elsevier Foundation is honoured to be able to recognize and reward talented young women scientists from around the world," noted David Ruth, the Executive Director of the Elsevier Foundation. "Encouraging the work of promising scientists in the developing world helps to promote wider participation and excellence in science, a key objective of The Elsevier Foundation's New Scholars programme." 
For more information about TWOWS, see www.twows.org. For more information about The Elsevier Foundation, see www.elsevierfoundation.org.