TWOWS Executive Board meets in Trieste
The Executive Board of the Third World Organization for Women in Science (TWOWS) is meeting at TWAS's headquarters in Trieste, Italy, from 30 to 31 March 2009.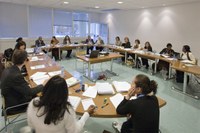 Discussions focus on various administrative topics, new projects and priority actions, including the key goals and actions contained in the Organization's Strategic Plan and plans for TWOWS's next general assembly and international conference next year. The meeting is being chaired by TWOWS president Dr. Kaiser Jamil.