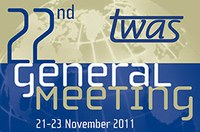 Any correspondence related to this event should please be sent to: annualmeetings [at] twas.org.
Participation: An invitation to attend the Conference has been extended to all TWAS Members and to a select number of distinguished individuals from developing and developed countries. Participation is by invitation only.
Registration: A 'Final Registration Form' has been sent to invited participants. This form should be completed and returned to the TWAS Secretariat by 20 September 2011.
Language: The language of the meeting will be English.
Travel: Participants should make their own travel plans with Trieste Airport (Ronchi dei Legionari) as final destination. TWAS will arrange pick-up from this airport and transport to the hotel. 


Participants should arrange to arrive on 20 November 2011 and depart on 24 November.
TWAS Members involved in the Committee and Council Meetings should arrive on 19 November.

Visas: Participants need to check with the Italian consulate or embassy closest to their place of residence about entry requirements. If a visa is necessary, participants need to apply at least 30 days before their departure. Should a personalized letter of invitation be required, participants can request one from Ms. Helen Martin. Participants requiring further assistance should contact Mr. Nino Coppola. 
Accommodation and meals: Participants will be notified individually in which hotel they will be accommodated.


The cost of accommodation and meals for four nights (20-23 November) will be covered by TWAS for each registered participant and, if applicable, one registered accompanying person accommodated in the same room as the participant.
TWAS will not cover any extra costs (e.g., telephone, fax, laundry, drinks, additional rooms). Each participant must settle such costs directly with the hotel reception prior to departure.

Programme: The updated programme (as of 14 November) is available below.