Historical forces and resource-driven conflicts are in collision over much of the globe, and as a result, millions of people are on the move as migrants or refugees – including uncounted thousands of researchers, doctors and advanced students. But in the view of Daryl Copeland, an author and veteran diplomat, the world may be ill-prepared to recognize them and put their skills to work.
In the keynote talk at a workshop on refugee and at-risk scientists co-sponsored by TWAS, Copeland surveyed the policy and diplomatic landscape affecting refugee scientists as they try to integrate into new nations in the Middle East, in Europe and beyond.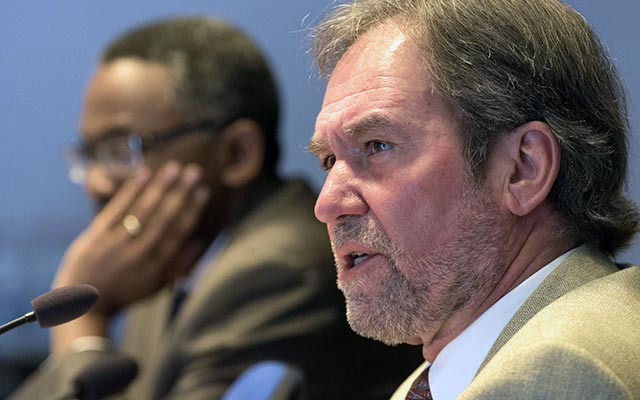 Programmes to support the refugee scientists are few and fragmented, with great inconsistency between the host countries, he said. There is no consistent effort to identify them and to assess their skills. There are no platforms where they can come together. Research on these issues is scant.
"National governments and international organizations, and to a lesser extent civil society, business and universities, are best positioned to facilitate action and collaboration," Copeland said, "but they face a knowledge and information gap."
His conclusion: "The problem of how best to harness the untapped potential resource of diaspora and refugee scientists as a tool for advancing the goals of international policy and relations falls squarely within the province of science diplomacy." Such diplomacy must bring stakeholders and governments together in the interests of effective solutions.
[See the full text of Daryl Copeland's keynote remarks.]
Copeland spoke on 15 March 2017 during the workshop "Refugee Scientists: Transnational Resources". The weeklong workshop in Trieste, Italy, convened some 50 high-level policymakers, science leaders, refugee programme administrators, along with refugee scientists. It is co-organised by Istituto Nazionale di Oceanografia e di Geofisica Sperimentale (OGS), based in Trieste, Italy, and Euro-Mediterranean University (EMUNI), based in Piran, Slovenia. The Swedish International Development Cooperation Agency (Sida) provided key support.
Copeland served as a Canadian diplomat from 1981-2011, posted to Thailand, Ethiopia, New Zealand and Malaysia. Today he is a senior fellow at the Canadian Global Affairs Institute and policy fellow at the University of Montreal's Centre for International Studies and Research. His book, Guerrilla Diplomacy: Rethinking International Relations, was released in 2009.
In setting the context for his talk, Copeland described how the end of the Cold War in the early 1990s created dramatic new possibilities for human movement and migration. In the 21st century, migration has been driven also by a wave of wars and conflicts, especially in the Middle East and North Africa region.
The United Nations High Commissioner for Refugees reports that by the end of 2015, more than 65 million people globally had been displaced, with 21.3 million of them registered refugees and 3.2 million asylum seekers. Of the total, 40.8 million people have been displaced within their own countries.
But in the midst of an historic exodus from the Middle East and North Africa, Copeland noted that new obstacles – such as the proposed US restrictions on migrants from some Muslim-majority countries – are rising to limit migration once again.
Already, uncounted thousands of migrant scientists, medical doctors and others in related fields have come from the Middle East-North Africa (MENA) region to adjacent nations, and to Europe and North America. They represent a significant potential resource for science – and for science diplomacy – in both their home nations and their new nations, he said.
"How might these communities of expatriate expertise be tapped to help address development and security challenges in their countries of origin and to hasten the advance of peaceful, prosperous international relations across the board?" he asked. "Can the collective knowledge, cultural understanding, and linguistic capacities of the [displaced scientists] ... be harnessed and mobilized to produce win/win outcomes for the mutual benefit of both home and host governments?"
"Perhaps," he says, "but not easily."
In his remarks, Copeland proposed that science diplomacy should have a central role. It can help to facilitate the movement and integration of refugee scientists. And, he said, diplomacy can help the scientists to address challenges both in their home countries and in their new countries.
But, he argued, global capacity in science diplomacy is presently limited. He explored a number of factors that currently constrain the diplomacy: military spending gets a disproportionate share of funding, for example, and political leaders often have a mistrust for both diplomats and scientists.
And yet, Copeland concluded, science diplomacy has an admirable record of success in the fields of arms control and environmental protection. And it can be developed into a valuable tool on issues of migration ­– for scientists, and for all people.
"Both science and diplomacy seek to use reason to bring order and understanding to their otherwise roiling and disorderly realms," he said. "Perhaps that is a basis for better collaboration in the future."
[Learn more about the 2017 workshop "Refugee Scientists: Transnational Resources."]
Edward W. Lempinen