A revolution in education, science, technology, and innovation is among the goals and priorities laid out in the African Union's Agenda 2063. To achieve this objective, African scientists need essential support through research grants.
Since 1991, TWAS has awarded in Africa more than 2760 grants with its long-standing partner, the Swedish International Development Cooperation Agency (Sida), and almost 60 grants with a more recent partner, the German Federal Ministry of Education and Research (BMBF). Two winners of the TWAS-BMBF Seed Grant for New African Principal Investigators (SG-NAPI) stand out.
Elizabeth Kemigisha is a Ugandan epidemiologist and a lecturer at Mbarara University of Science and Technology. She is interested in at-risk adolescents, who often face sexual and reproductive health issues, including gender-related discrimination, sexual violence, mental health troubles, and sexually transmitted diseases such as HIV/AIDS.
Paulin Nkolo, an organic chemist with the Masuku University of Science and Technology in Franceville, Gabon, is exploring the properties of traditional Gabonese medicinal plants to find new commercial drugs. Africa, in fact, hosts more than 22,000 botanical species, and  5,400 of them are used in traditional medicine. Still, less than 10% have been commercially developed.
The SG-NAPI grant is designed to support early-career scientists in Sub-Saharan Africa, offering a variety of components. Scientists use the grant to purchase much-needed equipment and consumable supplies, and to visit a host laboratory in either another African country or Germany. Both Kemigisha and Nkolo are using this opportunity to help their local communities.
Caring for adolescents' health
With 57% of its population under the age of 18, and 48.7% under the age of 15, Uganda has one of the youngest and most rapidly growing populations in the world. Adolescents, in particular, are an at-risk group. They are what Ugandan scientist Elizabeth Kemigisha calls a 'hidden population', because public health programmes overlook them.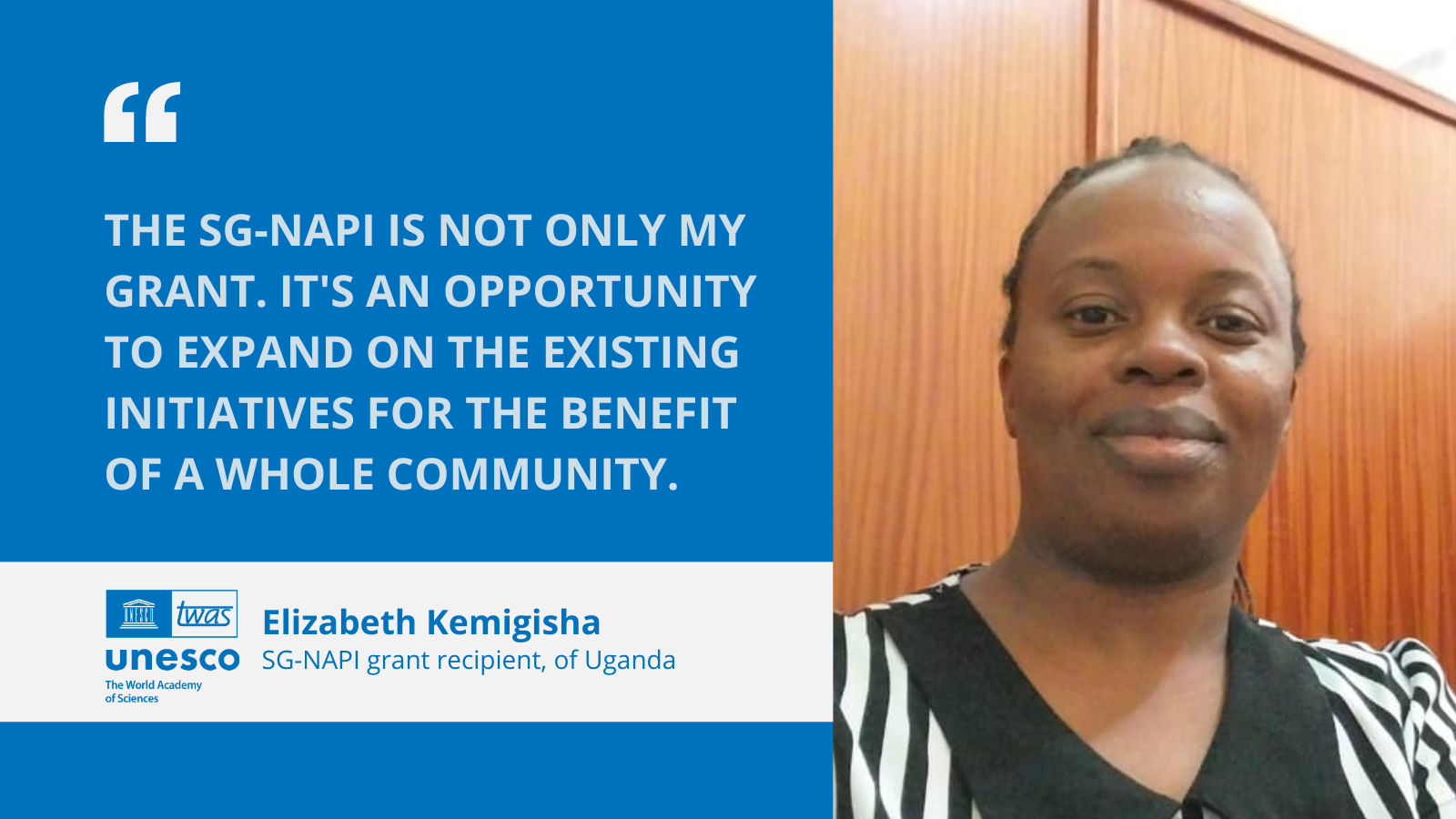 "These young adolescents face tough challenges in their lives. We have specific programmes for children under 5, and women in their reproductive age, but nothing for this age group," pointed out Kemigisha. According to the Uganda Aids Commission, 4 out of 5 new HIV infections in 2021 were young women in the range of 15-24 years.
Furthermore, according to UNFPA stats, 25% of Ugandan girls between 15-19 have had a child or are pregnant, and 42% of the pregnancies are unintended. Young male teens, on the other hand, are at risk of drug and alcohol abuse.
With a PhD in social and health sciences from Ghent University, Belgium, Elizabeth Kemigisha began focusing on adolescents over five years ago. She is now committed to enhancing adolescents' awareness and quality of life through sexuality education in schools, and by fostering better communication on sexual health between parents and adolescents.
Through the SG-NAPI International Conference Grant scheme, she could present her study at international conferences. The grant, in addition, allowed purchasing consumables, equipment, and a laptop with a printer.
"The SG-NAPI fellowship allowed me to become an authoritative member of an adolescent and school health technical working group, under the Ministry of Health, and a focal point for any matter regarding adolescents," Kemigisha said.
The grant also bolstered her scientific reputation, she added. "As a consequence, the director of the Mbarara Regional Referral Hospital agreed to allocate me some space to establish the first-ever adolescent health clinic in that region, in August 2022."
In addition, Kemigisha launched a two-year training project for Jan 2022–Dec 2023. The objective is to ease the dissemination of sexual and reproductive health information and services for adolescents in the Mbarara district, in South Western Uganda.
The project targets clinical health providers, as well as master's and PhD students involved in this field. It has attracted more than 25 participants who have since undergone at least three training sessions about adolescent health development.
Prevention actions and effective messages are important. "We know that adolescents do not come to hospitals, and that their parents are not prepared enough to teach their children the best practices of good health," she said. "To fill this gap, we wrote a manual that is in the process of being published, to teach parents how to deal with this."
She is also planning to build an app for mobile phones to support health professionals or counsellors when they spot a potential at-risk child.
"Part of this grant allowed me to cover the tuition and the stipend of a student, Namatovu Shakillah, who is now finishing her master's degree in public health," explained Kemigisha. "This fellowship set also the stage for the training of young promising students, who do research and clinical work, and offer their services to our community."
"This grant allowed me to build a stronger career, doing something visible that is attracting stakeholders," Kemigisha noted. "But the SG-NAPI is not only my grant. It's an opportunity to expand on the existing initiatives for the benefit of a whole community."
Strengthening a scientific reputation
According to the 'The race against time for smarter development' UNESCO science report, 80% of countries invest less than 1% of their Gross Domestic Product (GDP) in research and development. Sub-Saharan Africa invests, on average, 0.51% (2018), and Gabon invests as little as 0.58% of its GDP in R&D.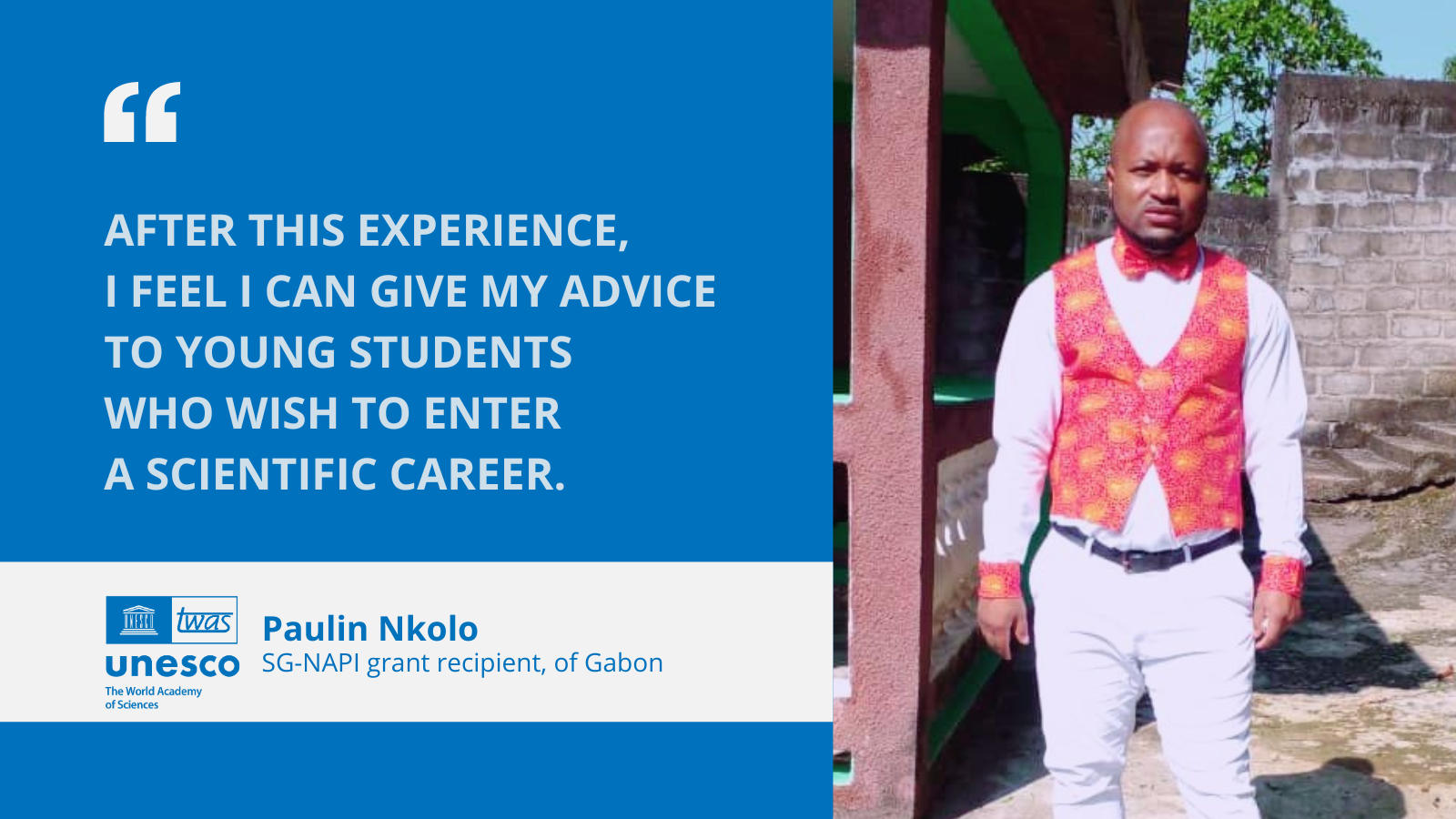 "In the laboratories of our universities we lack almost everything," said Paulin Nkolo, a Gabonese chemist who obtained an SG-NAPI fellowship. "The small equipment available is, on average, quite old, and there is a chronic lack of consumables."
This is why receiving financial support from TWAS-BMBF was very important for his career.
Nkolo, an assistant professor in organic chemistry at the University of Sciences and Technics Masuku, in Franceville, Gabon, learned about the SG-NAPI programme from a colleague at his university.
"The SG-NAPI award has strengthened my reputation in my institution. The faculty released a communication to highlight I'm a winner of the SG-NAPI award," he said. "Thanks to this grant, I will continue my research, searching for active biomolecules under better experimental conditions. In addition, I am already supervising master's students for two years, offering them the chance to build their higher education."
Student supervision and high numbers of scientific articles, he explained, are necessary conditions for advancing a scientific career. Thanks to this grant, the scientist pointed out, his institute has allowed him a lab and students to assist with his projects.
Nkolo's scientific interests cover a wide range of topics, including finding ways to make industrial chemistry more environmentally safe, by using newer and less-dangerous chemicals. But his main interest is traditional Gabonese medicine and how plants suggested by local practitioners meet people's primary healthcare needs in their communities.
"In Gabonese medicine, several plants are recognized as a good source of bioactive components and potential antimalarial drugs," he explained.
"Our objective is to isolate molecules extracted from plants and test them on strains of the parasite that are resistant to one of the most common drugs used to treat malaria, called chloroquine," said Nkolo. "We are exploring other substances called alkoxyamines, which look promising not only against malaria but also with cancer."
Nkolo's plans for his career are crystal-clear. He aims to continue in the research of plants' bioactive molecules because Gabon hosts a huge variety of promising botanical species.
"I'm confident that this investigation will give us a sound reputation in the field of the chemistry of natural substances," he added. "After this experience, I feel I can give my advice to young students who wish to enter a scientific career. And my message is: 'Choose a field that could disclose benefits for your country and apply for external funds such as the SG-NAPI. This will facilitate your professional integration at the end of your academic training.'"
Cristina Serra