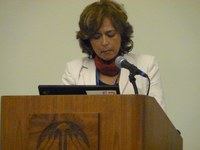 And even that small percentage fails to reveal the scope of the challenge. That's because nearly half of the academy's female members have degrees in the social sciences and the humanities, while less than 15% have degrees in the basic sciences.
Ruiz made her remarks at the 2010 American Association for the Advancement of Science (AAAS) meeting in San Diego at a session organized by TWAS focusing on "science academies in society."
Another major challenge facing academies is the age of their membership. According to a recent survey conducted by the InterAcademy Panel (IAP), the average age of academy members worldwide is more than 65.
The German Academy of Sciences Leopoldina, together with the Berlin-Brandenburg Academy of Science and Humanity, has taken steps to address the academy's age problems "by creating a Young Academy for German scientists less than 40 years of age," says Jutta Schnitzer-Ungefug. The Young Academy, which was formed in 2000, consists of 50 scientists, each of whom is appointed for five-year terms. Schnitzer-Ungefug, who serves as secretary general of the German Academy of Sciences Leopoldina, also spoke at the AAAS session.
The Mexican Academy of Sciences has pursued a different tack in addressing issues of gender inequality. As Ruiz notes, it has focused on developing programmes designed to promote and empower women within the existing framework of the academy. For example, it has led efforts to allow women scientists in Mexico apply for grants and fellowships at a slightly older age than their male counterparts that is intended to reduce the penalty for taking time for maternity leave or caring for elderly parents. And it has lobbied to include women in high-level committees responsible for the awarding of grants and fellowships.
Science academies across the globe have taken significant measures to become more actively involved in their societies. As they seek to energize their activities and become more relevant, they are also exploring ways to become representative of their societies.
Youth and gender inequities are among the most critical issues that academies face. The reform measure being pursued by the German Academy of Sciences Leopoldina and the Mexican Academy of Sciences are a reflection of broader trends among science academies worldwide.