Bangladesh is highly vulnerable to climate change-triggered tropical cyclones, ranking seventh in the Germanwatch 2021 World Climate Risk Index of countries that suffer most from extreme weather events. The Bangladeshi Government has drafted a roadmap to endow the country with measures for climate change adaptation through its National Adaptation Plan (2023-2050). And increasing the dialogue between policymakers and scientists could lead to even better interventions.
Science diplomacy is a tool that could provide this advantage, as the AAAS-TWAS science diplomacy courses have demonstrated since 2014.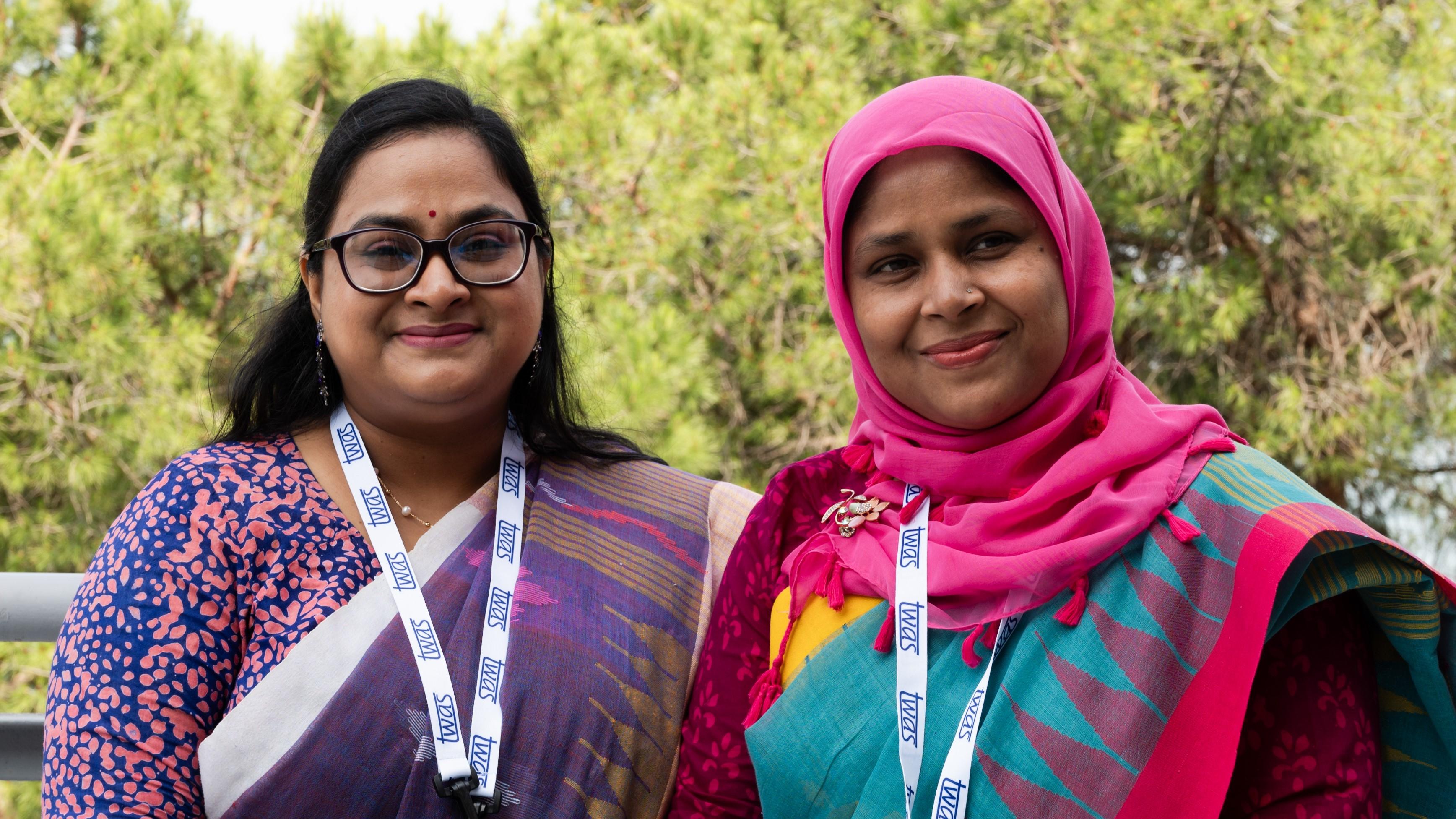 Two Bangladeshi women holding public positions attended the 10th AAAS-TWAS Course on Science Diplomacy to learn about science diplomacy and its potential. One, Nazma Ashrafi, is a senior assistant secretary with the Ministry of Environment, Forest and Climate Change (MOEF). The other, Noor Shaila Sarmin, is a professor with the Bangabandhu Sheikh Mujibur Rahman Agricultural University (BSMRAU).
They said the course changed their understanding of the discipline, inspiring them with ideas to pursue in their professional life. "During the course, I saw first-hand how important it is that scientists and policymakers work together to achieve better results," said Ashrafi. Sarmin said the course provided her with a clearer picture of the broad spectrum of interventions that science diplomacy allows.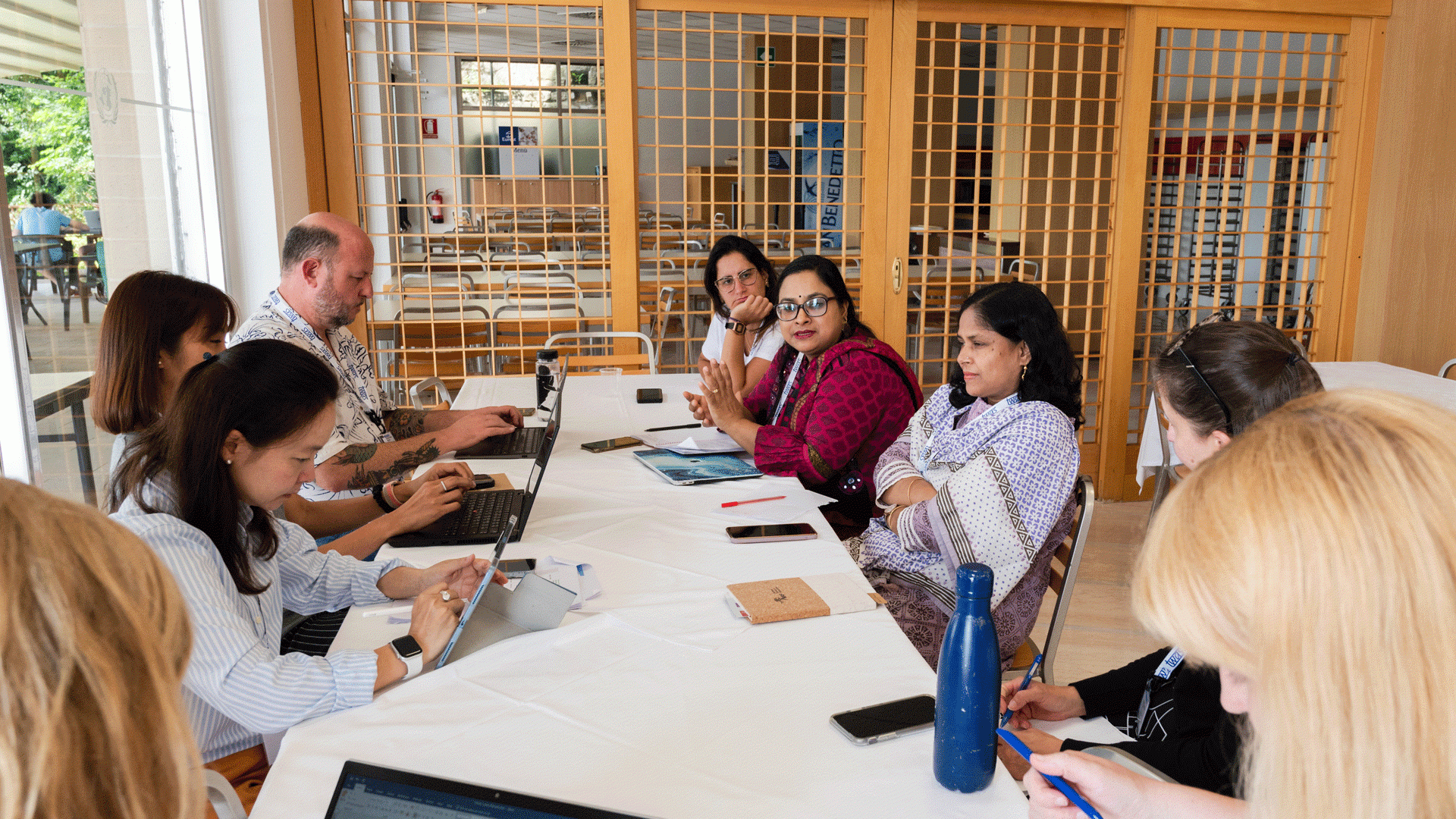 The science diplomacy training programme was established as a result of a partnership between the American Association for the Advancement of Science (AAAS) and TWAS. Today, it is among the leading programmes for training science diplomats in the world.
The course was held 19–23 June 2023 in Trieste, Italy, receiving support from TWAS's long-standing partner Sida, the Swedish International Development Cooperation Agency. Through an interactive formula, the attendees engaged in active discussions. Twenty-six participants were grouped into 'pairs', with one scientist and one diplomat from the same country working together to blend their respective competencies through role-play games and simulations.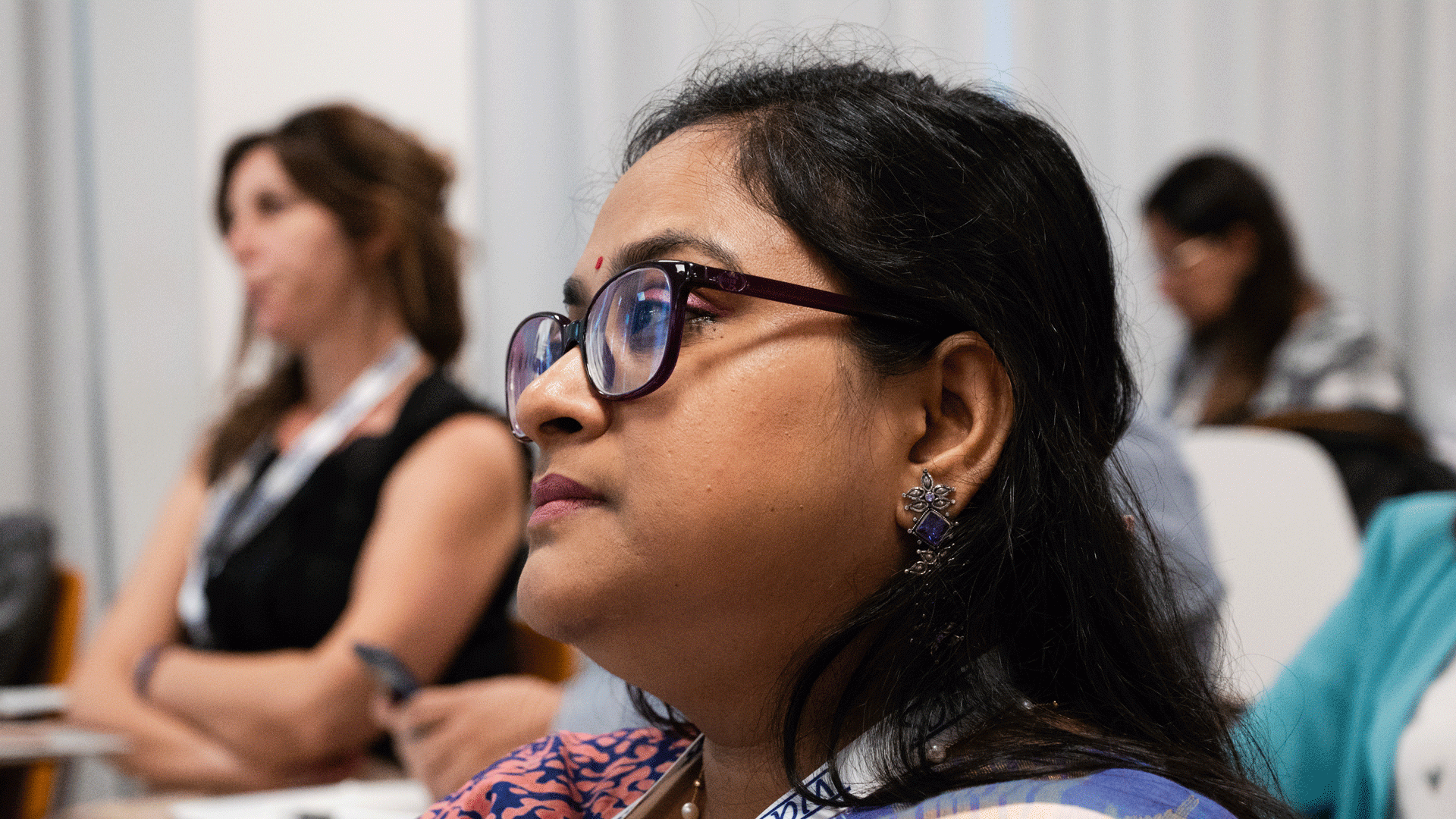 Each pair addressed real-life situations regarding, for example, ocean and space diplomacy. They also tested their abilities as facilitators in case studies such as dam construction where different countries had economic interests.
Adapting to climate change in Bangladesh
Thanks to environmental policies aimed at curbing extreme climate events, Bangladesh has made progress towards social and economic growth. The country is scheduled to graduate from the UN list of least developed countries on 24 November 2026. However, planning is required to achieve further prosperity: at least 19 million Bangladeshis are dependent on forests for their livelihoods, but environment degradation, land-use change, and pollution still threaten their lives.
At MOEF, Nazma Ashrafi is in charge of monitoring environmental pollution, forest conservation, and mitigation of climate change's impact. "Bangladesh's economy is still based on agriculture, which suffers from global warming and extreme events. This is why at the Ministry we are so much concerned with environment protection," she said. "We aim to preserve our agricultural practices and forests through adaptation models that lead towards green growth."
Green growth, as she explained, is not just about planting new trees or saving and using renewable energy. Rather, it entails a shift in people's awareness and in the management of common resources like air and water.
Raising awareness through outreach activities is also part of her work. "When I was working in the civil service administration I used to visit schools to increase students' understanding about the negative impact of plastic use," she recalled. "Now, I visit factories and interact with various stakeholders, working to raise awareness about the importance of reducing the pollution of water and air."
A degree in sociology and a master's degree in population science, both earned at Dhaka University, help Ashrafi to sense the needs of the population as well. She deals also with climate migrants, and people forced to flee due to natural disasters, and addresses sensitive topics such as sex and reproductive safety.
"The current government's orientation prioritizes women and children in every phase of life," she said. Unfortunately, she added, rural Bangladesh is still a male-dominated society, and there is a well-established link between climate and women's condition.
"Due to erratic climate, many parents lose their jobs because of the climate crisis. Therefore, they push their daughters out of the family forcing them to get married at a young age," she explained. "The society itself needs to understand that women should be protected in their sexual rights and reproductive health."
The course disclosed to Ashrafi new perspectives. "Before the course, I thought that I would learn a few things useful for my work, because I'm not a pure scientist. After the course, I realized that all the issues that I deal with need 'togetherness'. Scientists show the path and provide essential data, and diplomats invest on this, set new policy measures, turning the scientific advice into local interventions."
She also noted that Bangladesh is working hard to achieve sustainability and development in many sectors. "I will apply what I have learned in science diplomacy to create greater synergies and have a more impactful role in advising policymakers when making informed decisions," she emphazised.
Science diplomacy for sustainable development
In her capacity as a professor at BSMRAU, Noor Shaila Sarmin follows several projects, focusing in particular on agroforestry and the introduction of local medicinal plants in agricultural practices.
Agroforestry is a land management system that integrates agriculture, woody perennial trees, and animals.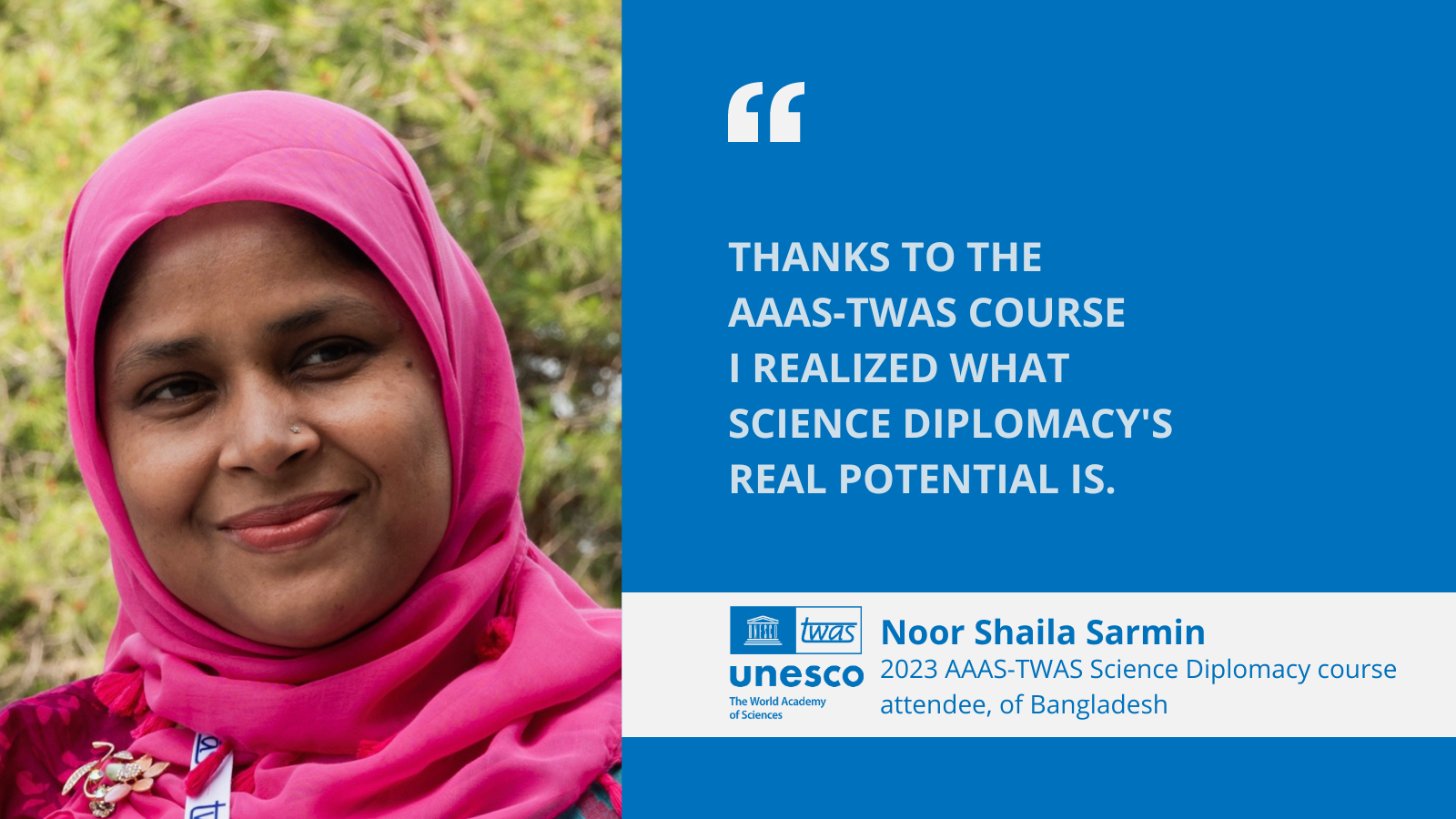 This system provides a range of products that include food, fuel, timber, and fodder. It also grants protection to the environment, contributing to microclimate modification, improvement of soil organic matter, and reduction of soil erosion. All this enhances the income and food supply for smallholder farmers.
"Agroforestry is a fruitful approach for the rural communities of Bangladesh. Growing more than one component in the same field grants harvesting more than one production per year, in case one of the crop varieties is damaged by adverse events," said Sarmin, who holds a PhD in forest management and conservation from Universiti Putra Malaysia.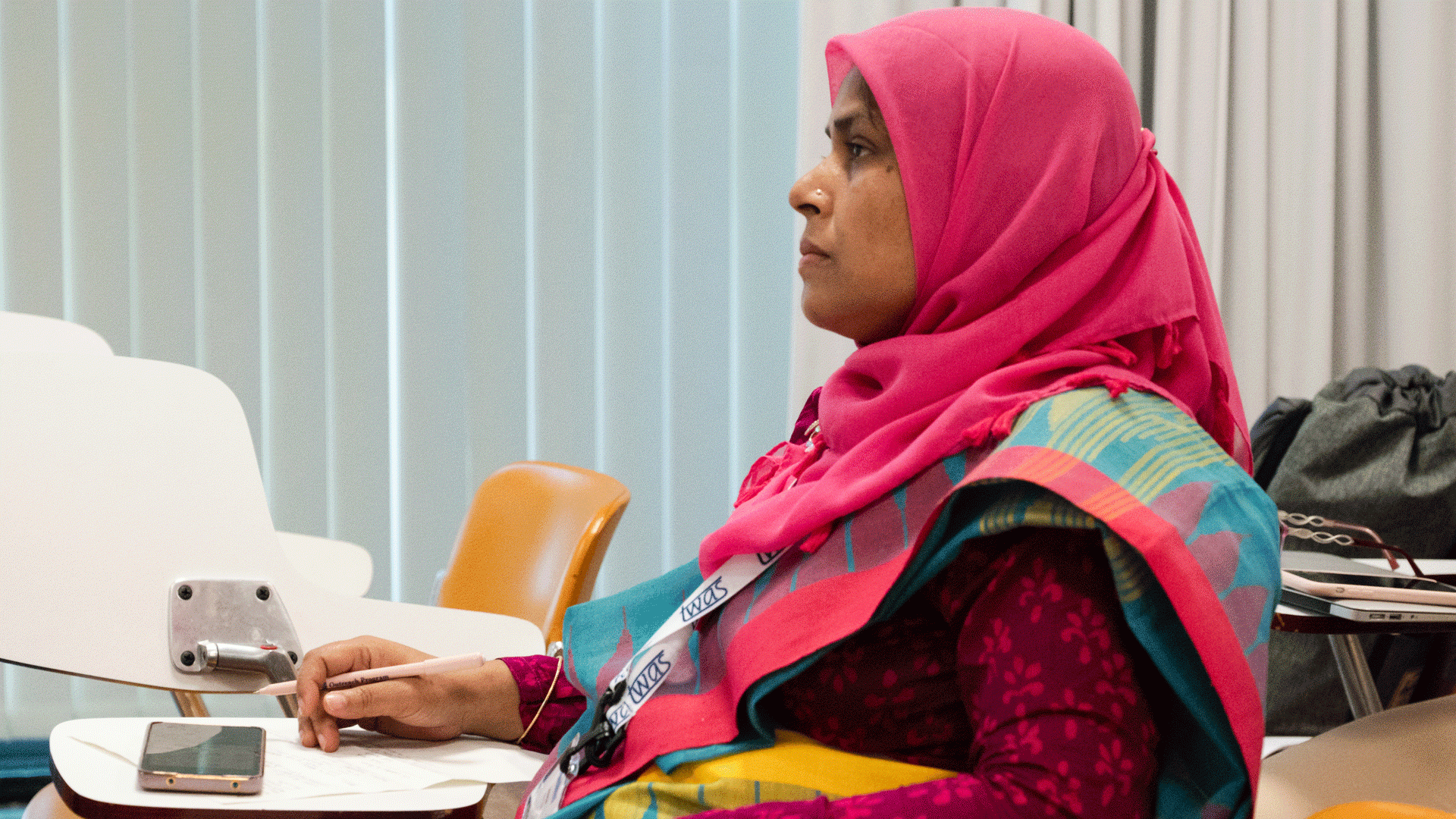 Among the woody species that she is trying to introduce in the local fields there is moringa (Moringa oleifera). Moringa, she says, is often referred to as a "superfood". "It has small, very nutritious leaves endowed with medicinal properties. Thanks to their small size, the forest crown is very light. The leaves protect the crops, and, at the same time, allow the sun to filter through the canopy. This is why we encourage farmers to introduce moringa into their agroforestry practice."
Land-use change is another scientific interest that Sarmin has been pursuing for decades. She uses a satellite-based technique called remote sensing to retrieve information about an object or an area from a distance, with a resolution of up to 10 metres.
"With my university, I've been monitoring land changes for the last 20 years. We have seen which types of crops farmers prefer, and how forests are rapidly disappearing due to the increasing presence of industry and factories. This, in turn, has reduced water bodies, which are polluted with industrial effluents," she explained.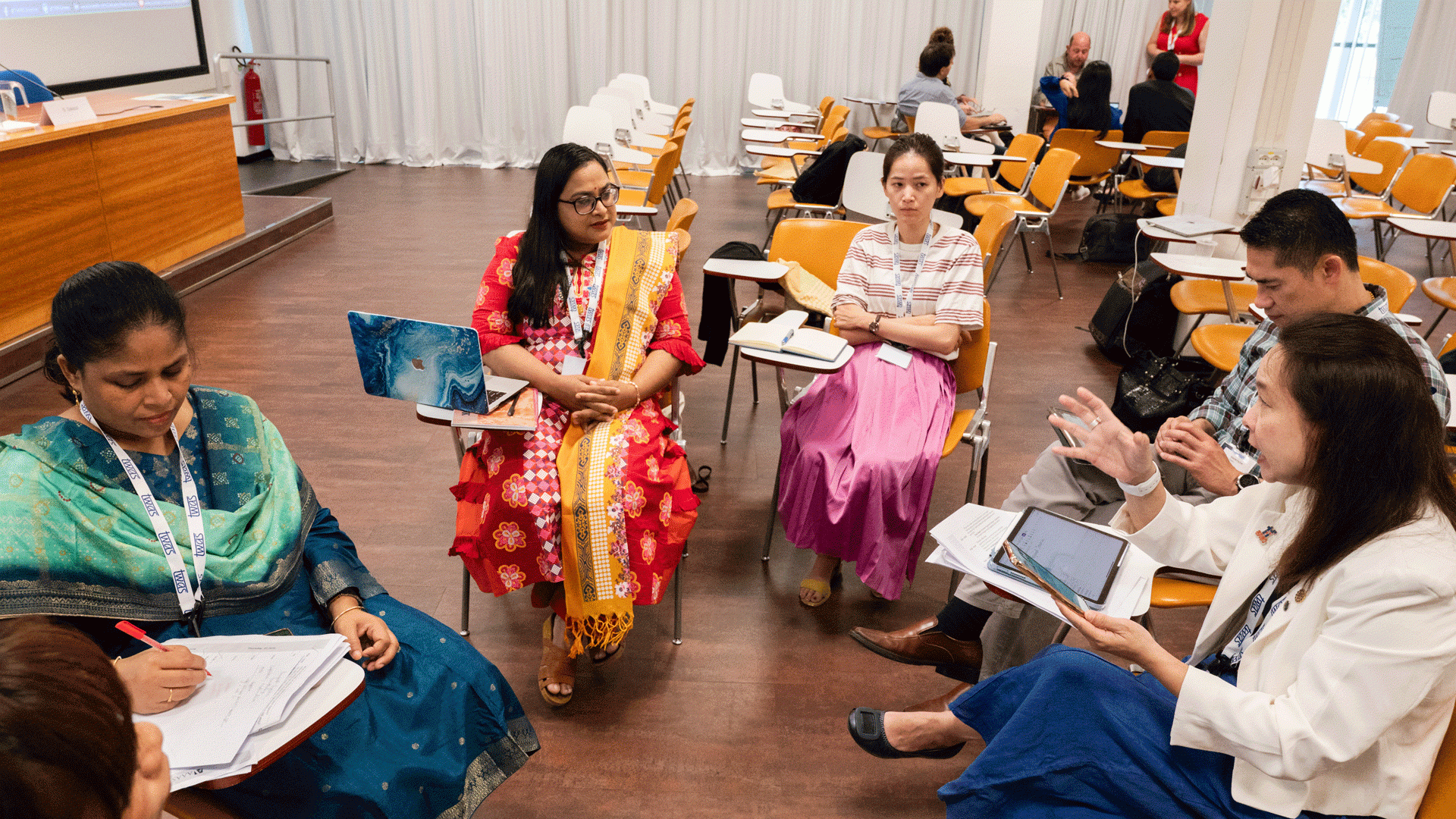 Science diplomacy may play a pivotal role in addressing these issues, she observed. "Thanks to the AAAS-TWAS course I realized what science diplomacy's real potential is. As scientists it's important that we do our research, but in our capacity we should also offer advice to policymakers."
The course, she added, allowed her to meet experts from different countries, fostering opportunities for stimulating discussions. During the event, she engaged in a conversation with Melania Guerra, a former director of Science Strategy at Planet, a company operating high-resolution satellites that capture daily images of the Earth. Guerra informed Sarmin that the scientific community can have access to Planet's images archive, which presents opportunities for Sarmin's studies on land-use change.
After collaborating as a team during the TWAS event, Sarmin and Ashrafi are currently exploring the potential to work together for the betterment of Bangladesh. Reflecting on the experience, Sarmin noted, "The course taught me how to think broadly, and approaching sensitive topics gently, in a respectful way."
Now, she has a clearer idea of how she can make a difference in her country. "I want to build awareness through workshops, seminars, and public events, to explain what is science diplomacy and how each nation should start using it as a tool to build bridges and solve problems."
Cristina Serra