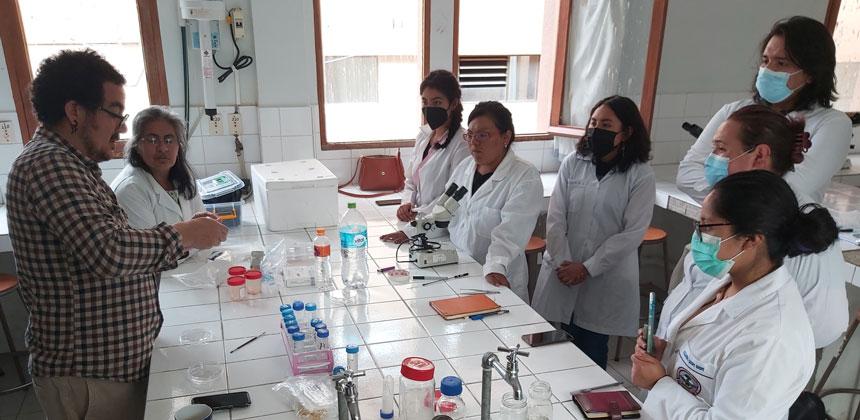 The TWAS Young Affiliates Network (TYAN) organized a five-day summer school in La Paz, Bolivia, from 6–10 March. The school offered more than 100 young students and scientists from Latin America and the Caribbean not only the chance to attend theoretical seminars and hands-on sessions but also to establish mutual collaborations.
The Higher University of San Andrés (UMSA) and the National Academy of Sciences (NAS) of Bolivia hosted the event. UMSA Rector Oscar Heredia praised the opportunities offered by TWAS Young Affiliates and encouraged further similar activities in the future. "A country without science and education is a country without a future," he said in his welcome remarks, which were broadcast by UMSA via YouTube.
"This summer school was a unique and valuable experience," said Franco Cabrerizo, a Professor at the National University of San Martín, Argentina, and TYAN Chair. "The academic standards of the students I met were really impressive and all the students were highly participative and eager to learn."
In collaboration with its five Regional Partners, TWAS annually selects up to 25 outstanding young scientists under the age of 40. They become TWAS Young Affiliates for a period of 6 years, after which they become Alumni. To date, TWAS has more than 350 Young Affiliates and Alumni from 80 countries. The TWAS Young Affiliates Network, which launched in 2016, provides a hub for these exceptional young researchers to their scientific expertise, skills and ideas.
Together with Cabrerizo, four other TYAN members conceived and organized the Summer School. TWAS Alumnus and plant biologist Pablo Bolaños-Villegas, a group leader at the University of Costa Rica; Leslie Tejeda, a 2020–2025 TWAS Young Affiliate and a food engineer from Bolivia; cell biologist Federico Brown, a TWAS Young Affiliate and an Assistant Professor at the University of San Paulo, Brazil; and TWAS Alumna Yraima Cordeiro, a biochemist and an associate professor at the Federal University of Rio de Janeiro, Brazil.
The TYAN Summer School received more than 450 applications from Argentina, Bolivia, China, and India. The school gathered postgraduate and postdoctoral students, local researchers, professors from public and private Bolivian universities, and scientists from private companies.
Every day, the event started with a guest scientist delivering a lecture. Then the course proceeded by discussing big concepts in the morning and focusing on experimental exercises in the afternoon. Over five days, the five TYAN members delivered simultaneous hands-on training courses in key areas of chemical and biological sciences.
Fostering the next generation of researchers
Image
The Summer School offered an in-depth overview on topical issues. These included, among others, courses about plant reproduction, food chemistry and photochemistry, a discipline that studies chemical processes prompted by the absorption of light.
"We exposed the students to a broader vision on scientific themes that are not explored in many developing countries," said Pablo Bolaños-Villegas.
In his course on plant reproduction improvement, students learned key aspects of plant reproduction that facilitate the growth and resistance of important crops such as quinoa and wheat. "We shared our expertise with students, giving some of them the opportunity to see through a microscope for the first time in their life," Bolaños-Villegas recalled.
"For young scientists in developing countries, events like this one break their isolation and build a positive sense of community. By creating these connections, TWAS plays an influential role worldwide," he added.
In the food chemistry course held by the school organizer and coordinator Leslie Tejeda, students explored the chemical reactions that occur during food processing. They also examined the nutritional properties of food and discussed basic notions of hygiene. "My goal was to meet the students' expectations by addressing topics that they were not familiar with," she said.
Tejeda is now a member of the spin-off company Swebol Biotech, dedicated to formulating functional foods based on Bolivian crops such as quinoa. At UMSA, she coordinates a five-year innovation management project supported by the Swedish International Development Cooperation Agency (Sida). The project's goal is to take advantage of relationships with institutions to support science, technology, and innovation.
Image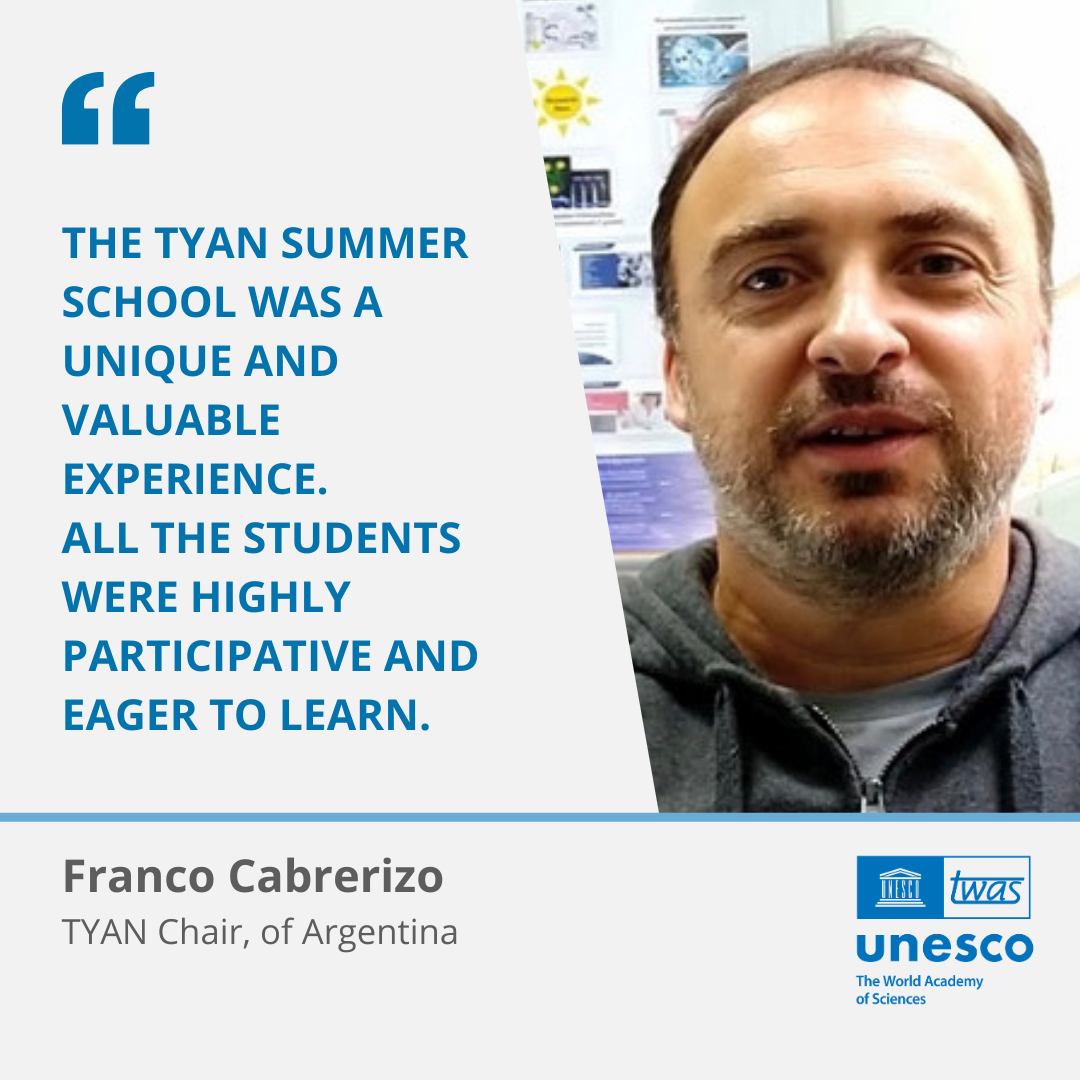 Tejeda says she has benefitted much from being a TWAS Young Affiliate. For instance, through this international network, she promoted the establishment of new collaborations between UMSA and the University of Costa Rica.
TYAN Young Affiliate Federico Brown from the University of San Paulo, Brazil, held a course on animal models in experimental research. His teachings shone some light on the basic tools for the study of invertebrate organisms, used as models in experimental research.
TWAS Alumna Yraima Cordeiro taught her students how to study living cells using biospectroscopy, a visual technique that investigates the absorption and emission of light and other radiation by biological systems.
In his practical course on photochemistry, Franco Cabrerizo introduced a complex field showing how visible and ultraviolet can trigger many chemical reactions.
"These laboratory skills are urgently needed to bridge the research gap in science and technology-lagging countries such as Bolivia," he commented. "And the links created between researchers in the Latin American continent through this Summer School show the far-reaching and long-lasting effects of this initiative."
TWAS Programme Coordinator Max Paoli joined the School to present on TWAS programmes and climate justice. "The capacity-building activity conceived and carried out by TWAS Young Affiliates demonstrates a powerful vision," commented Paoli at the close of the event. "While plenty of knowledge is available in books, articles, and online courses, severe gaps exist in the conduct of experimental research in terms of laboratory techniques. Thus, in science and technology-lagging countries, there is an urgent need for real hands-on, practical training, which is what the TWAS Young Affiliates understood and addressed."
Cristina Serra