Food is at the core of the Sustainable Development Goals, which call for an end to all forms of malnutrition by 2030. To accomplish this goal, Africa needs scientists who can make breakthroughs in food research. This is where TWAS's grant programmes come in.
Two early-career African scientists who won a Seed Grant for New African Principal Investigators (SG-NAPI) are carrying out projects that address food safety and the nutrition properties of certain foods. Their research might bring benefits that go well beyond the walls of their labs.
The scientists are Cornelia Appiah-Kwarteng of Ghana, and Yannkick Nuapia of the Democratic Republic of Congo. Appiah-Kwarteng is a parasitologist who studies how humans become infected by parasites through their food, while Nuapia is an analytical chemist who explores the medicinal properties of local plants.
The SG-NAPI grant is a joint initiative of TWAS and the German Federal Ministry of Education and Research (BMBF). It was launched in 2020 to help young scientists who are getting established in their home countries or are about to return home to an academic position.
The awarded projects have a significant transformative potential and are carried out in one of the eligible countries. To date, the programme has launched two calls, in 2021 and 2022, and assigned 58 grants. The 2021 awardees will complete their two-year projects by the end of 2023.
With the awarded funds, the scientists have purchased the research facilities they needed to enhance their productivity, and are giving younger students the chance to pursue higher education by providing funds for tuition.
Why study parasites?
Cornelia Appiah-Kwarteng left Ghana for Japan, where she had, in her words, "an awesome experience". While there, she obtained a PhD from the Department of Veterinary Parasitological Diseases at Gifu University, in Gifu, Japan, advancing her scientific career. She also became a sushi-lover and, as a consequence, an expert in parasites that live in raw food.
"In Japan, I learned how to develop my critical thinking, analyse data, and plan experiments," she recalled. "But I was also very much impressed by the habit of eating raw food. In Ghana, we cook everything to make the food safe. This is what has oriented me towards parasitology."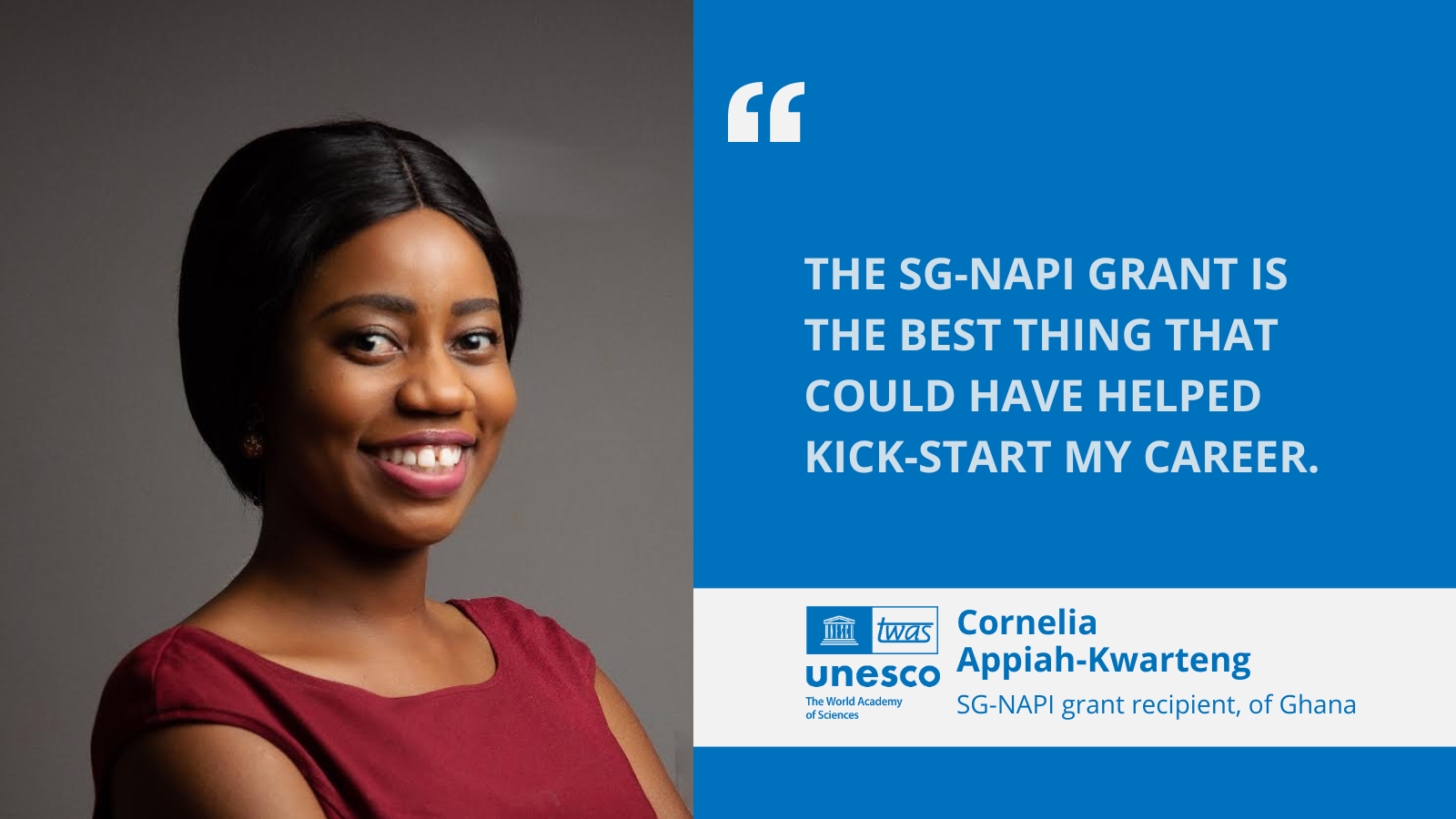 Eating raw food carries a risk of parasitic infection. Chickens may have silent infections caused by the parasite Toxoplasma gondii. These infections are called 'silent' because they do not affect the animals raised for food, which appear in good condition. But they are dangerous to humans who consume the meat. Pregnant women, in particular, risk miscarriage if they eat infected raw chicken. In Japan, Appiah-Kwarteng built a diagnostic tool that allowed early detection of this infection.
Upon her return to Ghana, she obtained an SG-NAPI grant that she used in her 2022–2023 project to purchase, among others, a water purification system. "Distilled water is essential if you do molecular biology research," she said. "And this machine is not for my group's exclusive use. It serves the whole department."
In Ghana, Appiah-Kwarteng is expanding her knowledge of local parasites. By sampling the intestine of goats and sheep, and of a rodent called a grasscutter, she wants to identify some varieties of whipworms. Then she plans to compare them with parasites obtained from human fecal samples, to see if there is any cross-contamination due to eating habits.
"The SG-NAPI grant is the best thing that could have helped kick-start my career," she said. The grant, in fact, earned her the respect of a former professor from the University of Ghana, where she is currently a lecturer, who now wants to collaborate.
The grant also allowed her to support two brilliant female master's students who help in the project — Mabel Osabutey -Aguedze and Henrietta Adjei. They do not have to pay for the tuition and receive a stipend. "Thanks to the SG-NAPI grant, two talented women scientists may now receive a higher education," Appiah-Kwarteng said.
The importance of science
A PhD in environmental analytical chemistry from the University of the Witwatersrand Johannesburg (2019), in Johannesburg, South Africa, was the first major step in Yannick Nuapia's scientific career. His enthusiasm, however, had to come to terms with the lack of research funding, a common problem in the Democratic Republic of the Congo (DRC), his home country. In fact, upon his return to DRC from South Africa, he had applied several times seeking funds to continue his research, but with no results.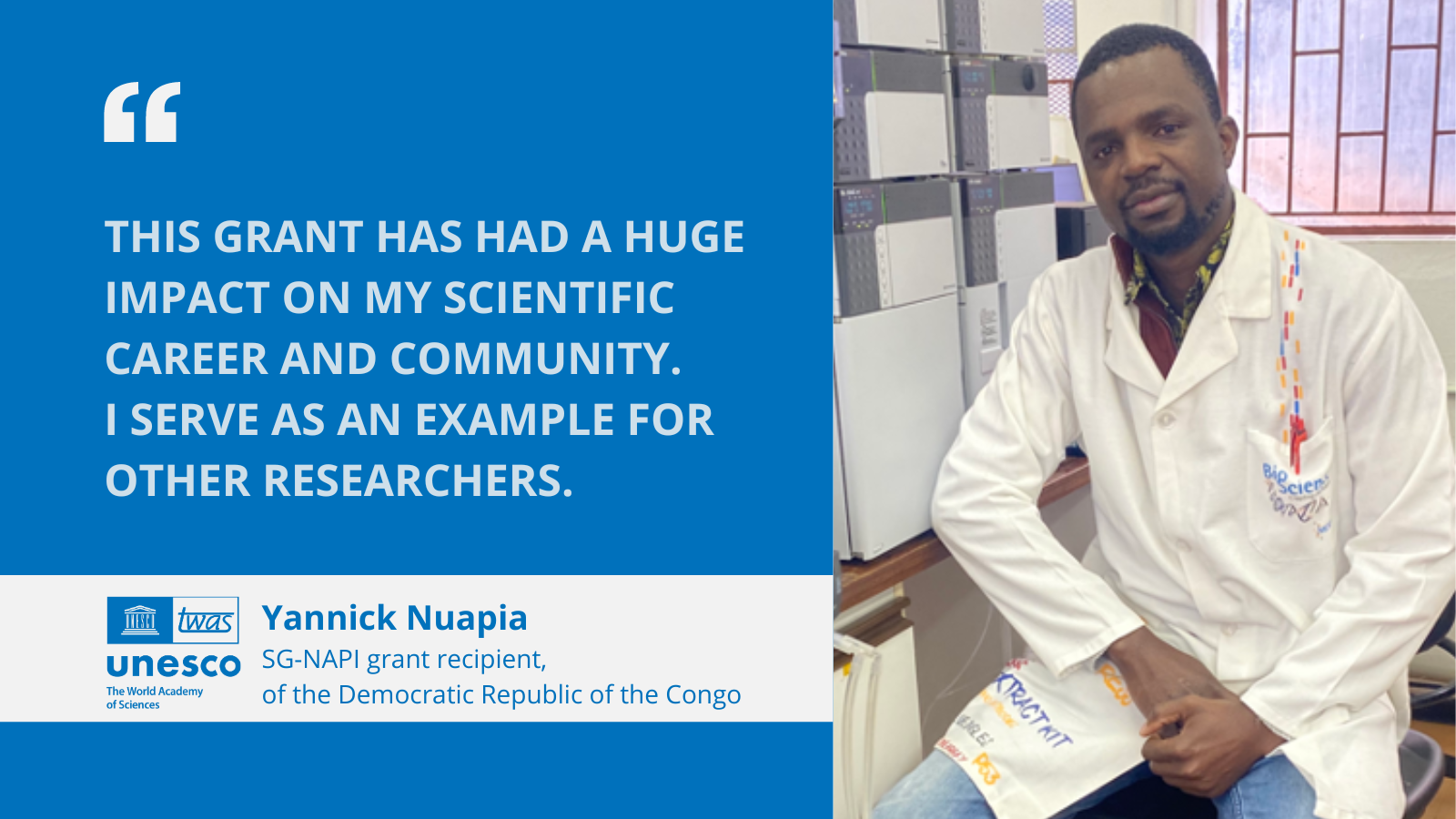 "When I applied for the SG-NAPI fellowship I was facing a severe financial challenge, and could hardly run my research. I was really disheartened," he recalled. But his perseverance paid off. A new proposal proved successful, and receiving the grant enabled him to purchase new equipment and consumables, and to cover the scholarship for an MSc student, Benny Vuangi Mateta.
Nuapia is a pharmacist and toxicologist at the Faculty of Pharmacy, University of Kinshasa, DRC. He studies the beneficial effects on health of molecules extracted from plants, as well as the toxic effects of heavy metals and other pollutants.
His current research is focusing on Moringa oleifera, a tree native to South Asia, which is widely cultivated in many parts of Africa. Moringa, as Nuapia explained, was used long ago by the Indian population because of its high vitamin content. In addition, it has antimicrobial properties, helps prevent diabetes and tumours and is useful to combat malnutrition in children. It is also rich in antioxidant compounds, calcium, and potassium. People who use moringa daily, Nuapia added, suffer less from metabolic disease.
"In Africa we call moringa 'the Miracle Tree'. Kids, for example, recover quickly from diseases if fed moringa. It comes as no surprise that there is a growing interest in this plant from farmers, researchers, and the South African government," Nuapia said. "This is why I worked to set up the best ways to extract active principles from moringa leaves."
Nuapia is also interested in the presence of pesticides and heavy metals in raw food. He has carried out research that revealed the presence of the synthetic insecticide DDT, and of lead in fish, meat, and vegetables. The research was carried out in Johannesburg and Kinshasa and the results are now used to provide policymakers with scientific advice. The Minister of Health is one of them.
"This grant has had a huge impact on my scientific career and community. I serve as an example for other researchers, and my colleagues believe it is possible to do research in a harsh nation like DRC," he said.
And regarding his student, he added: "This fund is important as it allows us to buy equipment. My student has his own project, but when his research is over the equipment will still be there for other students."
Cristina Serra