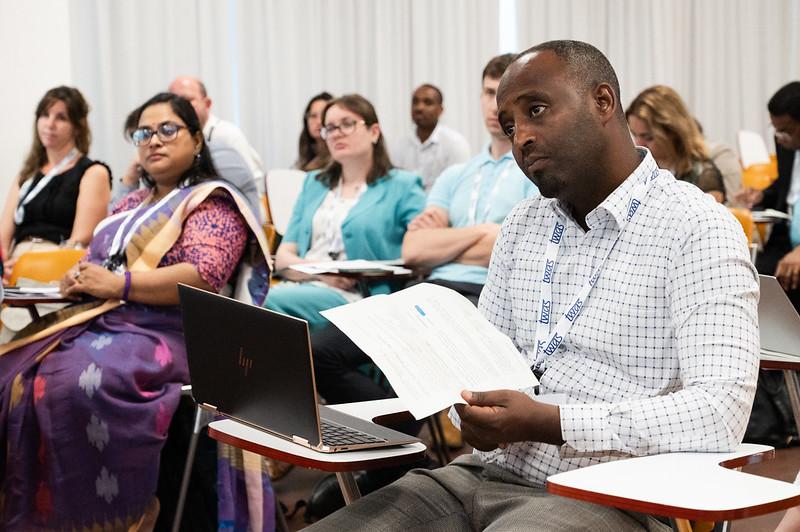 Twenty-six science diplomats, half with a scientific background, half with a focus in policy or diplomacy, recently took part in the tenth annual AAAS-TWAS Course on Science Diplomacy. There, they received a deep education on how science and diplomacy intertwine to ease tensions and create international bonds that can last generations.
The course, which took place 19–23 June 2023, was attended by 26 participants. They were grouped into 'participant pairs' — one early-career scientist and one policymaker each from the same country — that attended presentations and discussions on issues in science diplomacy. The pairs were also challenged to play out roles in simulated negotiations on difficult topics with competing interests such as the construction of a dam on a shared river and the conservation of endangered species in a transboundary forest.
The course is a collaboration between TWAS and the American Association for the Advancement of Science (AAAS), and receives primary financial support from Sida, the Swedish International Development Cooperation Agency, and AAAS. The Organization for Women in Science for the Developing World (OWSD) and InterAcademy Partnership (IAP) also contributed funding.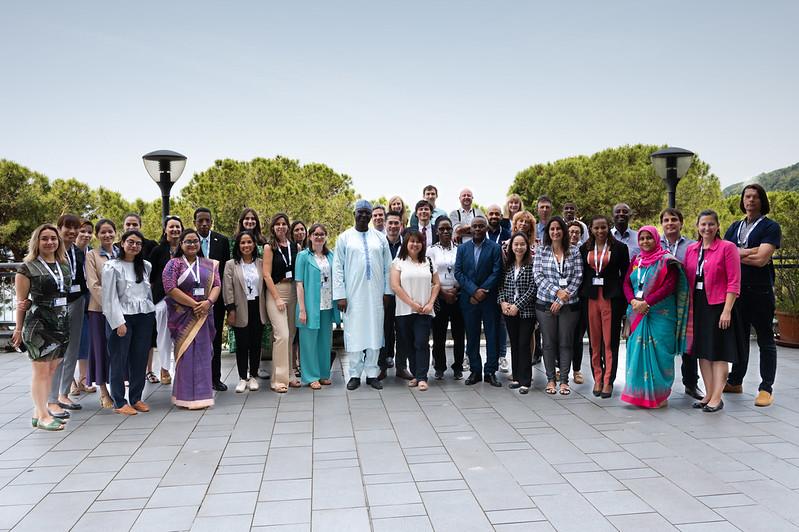 A course for future science diplomats
Nations and cultures have long built relationships based on science. Science diplomacy is a broad way of describing how scientific teamwork between nations can solve shared challenges and improve international relationships.
Today, science diplomacy takes many forms. Science can support diplomatic efforts, such as when researchers provide insight to support a new treaty to protect oceans. Diplomacy may also help lay the foundation for a multi-national science project. Scientific cooperation can also begin with the explicit intention of improving relations. Increasingly, nations are placing scientific attachés in their overseas embassies.
As a global science academy dedicated to building scientific capacity and expertise in developing countries through international collaboration, science diplomacy has been a natural area of focus for TWAS. The Academy signed its agreement with AAAS to host science diplomacy workshops and courses in 2011. TWAS has since hosted a science diplomacy course every year since 2014, and the programme has become a major fulcrum for science diplomacy education, especially for scientists from developing countries. Worldwide, 344 course alumni from 113 countries are now influencing or implementing policies and spreading knowledge about the fast-growing field throughout the developing world.
The course moved online for three years, from 2020–2022. But the tenth course returned to being a principally in-person event at TWAS's home city of Trieste, Italy. (See a video on the event below.)
Science diplomacy for 'the new normal'
Early in the course, participants heard a keynote speech from Amb. Prof. Muhammadou M.O. Kah, himself a seasoned science diplomat. Kah is ambassador extraordinary and plenipotentiary of the Republic of the Gambia to Switzerland and a permanent representative of the Gambia to the United Nations Offices at Geneva, the World Trade Organization (WTO), and other international organizations in Switzerland. He is also a professor of information technology (IT) and computing and former vice chancellor, rector, and president of the University of The Gambia. He additionally served in numerous other high-ranking academic roles offering expertise on IT and computing at prestigious universities in the US, UAE, Nigeria, and Azerbaijan.
"What drives, motivates and guides my efforts as a diplomat across multilateral organizations at Geneva, are the scientific background and experiences that I am equipped with," said Kah in his remarks. "If I was not a scientist, academic and diplomat who evolved within the scientific, technical, and digital ecosystem, it would have been a greater challenge to engage substantively while serving in multiple leadership roles."
Kah added that his background provided him with open-mindedness, problem-solving skills, and innovative approaches to collaborate with organizations and individuals that have many unique perspectives.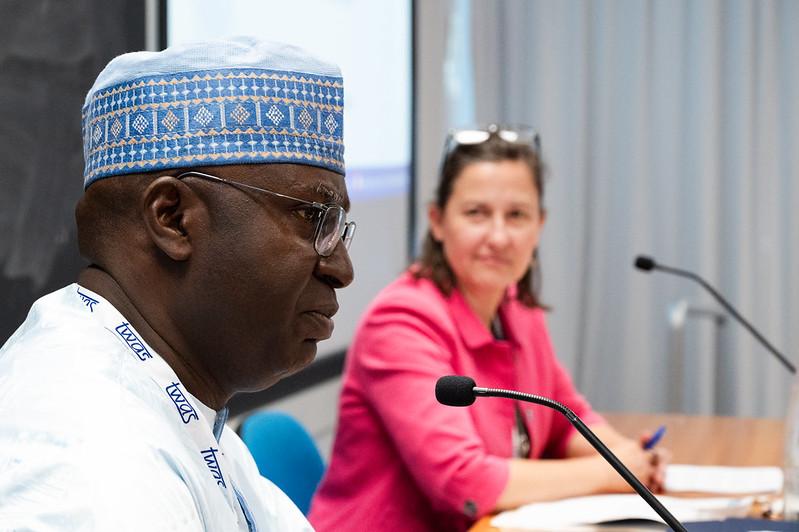 "As a scientist and an academic, your mind is prepared to be open and objective, collaborate, use evidence to solve problems, multitask, and share innovative ideas and perspectives generously. You are also subjected to merit-based peer review, and eagerness to share your insights," Kah said. "In my humble view, if you bring these attributes, approaches and character into diplomacy and negotiations, you have a much more effective, efficient, meaningful and impactful diplomacy."
He said AAAS, TWAS, and the science diplomacy community, have the opportunity to reshape and resituate diplomacy meaningfully, amid increasingly shifting geopolitics enveloped in huge uncertainties. Science diplomacy especially has this power in areas where current foreign policy mechanisms, misguided by polarising national interests, have collapsed or fail to yield a better global community.
Historically, Kah said, diplomats tend to come from legal or social science backgrounds, or perhaps have an expertise in modern or romantic languages. This may no longer be the only effective source for diplomatic talent — especially as emerging digital technologies redefine geopolitics and power a new economic order. Kah predicted that the next generation of diplomats will need to have a game-changing scientific mindset, as well as digital and technological competencies.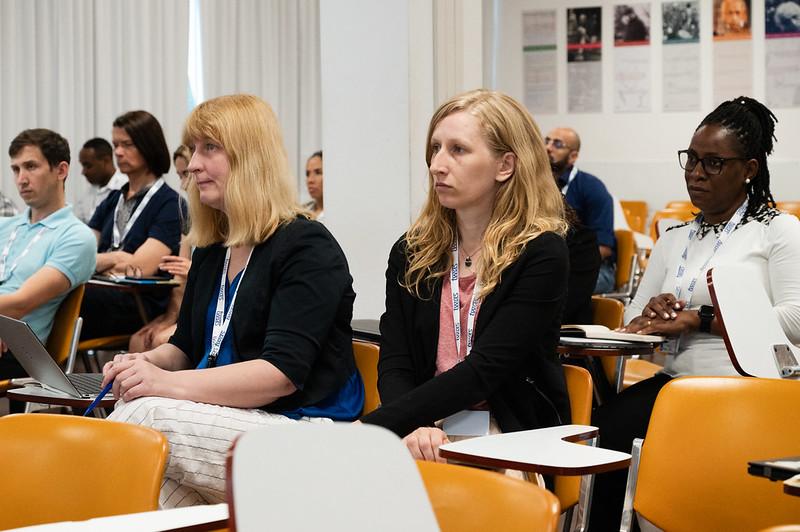 History supports this belief, he said. During the Cold War, Soviet and US scientists at times successfully conducted joint missions and made joint discoveries with huge benefits and impacts to the global community. And now, throughout the world, that tradition of scientists working across borders despite international tensions continues. This must be encouraged, he argued, in multilateral organizations and institutions responsible for foreign policy and diplomacy.
"When you combine scientists and non-scientists as diplomats, we will have a much more effective, peaceful, safe, productive, prosperous, and constructive world. It will address the huge challenges of humanity — through constructive engagements and pragmatism, anchored in human dignity," he said. "They can only be solved when you have a multidisciplinary and evidenced-based approach. And scientists need to be at the centre, supporting other, non-scientist diplomats."
Examples of scientists internationally coming together include the response to the COVID-19 pandemic, Kah said, when they determined an appropriate response in real time and produced vaccines. Now, Artificial intelligence (AI) is an emerging issue that accentuates the need for science and digital diplomacy. AI for Good must be a collective global commitment, he added, encouraged and supported by multilateral organizations and all nations.
Scientists need to take leadership roles to mitigate the risk from this new technology, such as threats to intellectual property rights, human rights, privacy, and ethics. Science diplomats can help ensure that AI provides people with sustainable prosperity and contributes to peace, security, and preservation of human dignity. Otherwise, he said it may be feared or misused, creating further inequities and even violations of human rights.
"I will submit to you here: When you return to your member states, be an advocate and a champion for your foreign ministry and government to begin to dispatch science diplomats, or tech diplomats, or digital diplomats," Kah said. "Whatever it is called, they are scientists — and they should populate all embassies and missions just like we post military attachés, or financial attachés, or trade attachés, or counsellors, or human rights diplomats. This is increasingly going to be the new normal. In fact, it is the new normal and countries of the North have already begun taking this view."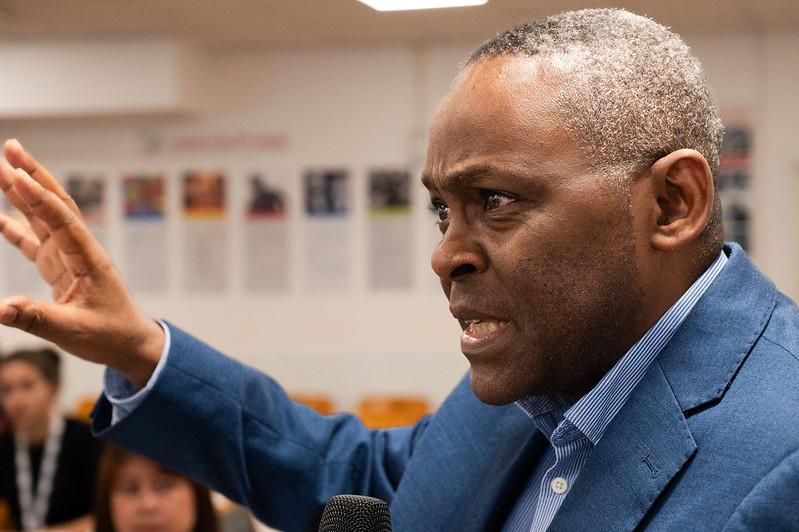 Global priorities and unique careers
The event included eight sessions on topics of importance to science diplomacy. Panellists spoke on how scientific collaboration has built bonds between countries across borders during times of tension, how diplomats respond to emerging technological innovations, and the nature of careers in science diplomacy.
One speaker, DiploFoundation Senior Fellow Ljupčo Gjorgjinski from North Macedonia, detailed his career focused on the diplomatic elements of new scientific findings and cutting-edge technologies, including AI. Gjorgjinski twice chaired the United Nations Groups of Governmental Experts on Lethal Autonomous Weapons Systems, and previously, the Biological Weapons Convention. He discussed the nature of diplomatic work, and ideas that people entering the field should try to keep in mind. He also cited British diplomat Harold Nicolson on the essential qualities a good diplomat has: truthfulness, precision, calm, good temper, patience, modesty, and loyalty.
"I do believe they are skills that can be developed — you don't just either have them or not," Gjorgjinski said. "Each of these skills can help in a given environment, or help a scientist representing their home country, and the scientific logic behind what they are arguing for."
To demonstrate the importance of remaining flexible in the profession, he recalled that at one point he had nine different speeches to deliver on highly varied topics — such as human rights, disarmament, migration, and international trade — all in a single day in Geneva.
"You need to be flexible in mind, to understand what you don't know while understanding your interests, to know your priorities, to be well organized, and to know where to be and not be," he elaborated. "But I think flexibility is the most important part."
The sessions also touched on numerous scientific topics important to policy and international relations, including food security, space science and protection of the oceans. Melania Guerra, director of science strategy for Planet Labs in Germany, was on panels for space and ocean diplomacy. Planet is a private company that operates over 200 high-resolution Earth-imaging satellites that document global changes on a daily basis. The company also provides satellite data that accredited scientists can freely use to inform their research.
Guerra said that she started her career in academia as an oceanographer, performing extensive fieldwork on underwater acoustics in the Arctic Ocean. Her involvement in ocean governance led to a career in science policy and diplomacy, representing her home nation of Costa Rica, eventually moving to the private sector.
"The reason why I came to the private sector is that I saw that the diplomatic sphere and the Paris agreement had apparently reached the apex of what diplomacy can do for climate science," she said. "From there, the private sector is the one that has the funds, the resources, the mechanisms, and the speed to get things implemented on the ground."
As she moved to the private sector, she said she had to confront her own biases about its values. Scientists have used the company's resources to produce astonishing research, she noted. One major example is a teaat the University of Copenhagen, the Netherlands, which mapped every single visible tree in the whole continent of Africa.
"In this role I've had to employ my science communication skills in new ways," she said. "Not just to speak to the scientists who use our data, but also internally, to connect the dots between the research that we enable and the revenue that's key to the business."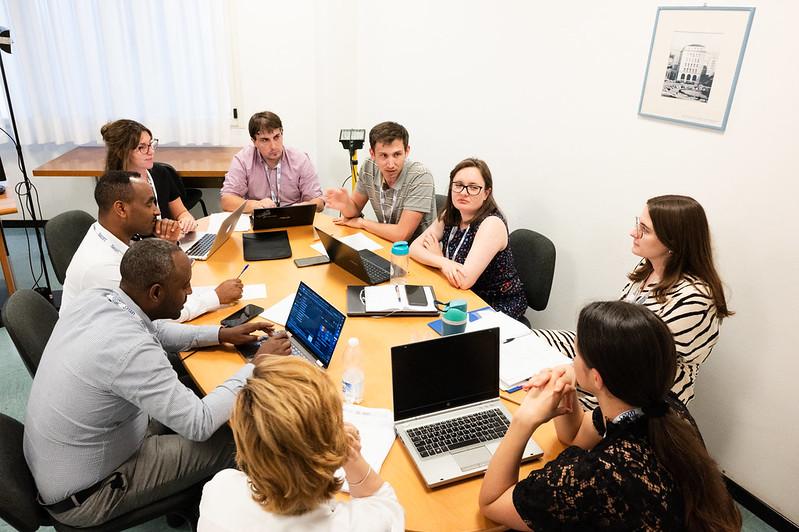 Science diplomacy teamwork
The course attendees were divided into 'participant pairs' — teams of one scientist and one policymaker or diplomat from the same country. One goal was to, through common education and collaboration, strengthen the connection between scientists and those in the diplomatic sphere. The broader objective was to plant the seeds for long-term practice in science diplomacy in their country.
Throughout the course, each pair participated in one of three breakout exercises. In these sessions, they took part in a simulated international conflict and explored what roles different nations, interest groups, and international institutions may play in arriving at a negotiated response.
One participant pair was from Panama. The diplomat, Mario Morales López, the second secretary of the Panama Embassy in the United States, has worked on the development of Panama's roadmap for science diplomacy policy and ocean policy. He also works to foster scientific cooperation between Panama and the US. His partner scientist was Gisselle Guerra, a hydrologist at Technological University of Panama's Hydraulic and Hydrotechnical Research Center and one of the country's most celebrated early career scientists. Guerra's research on coastal erosion on Panama's Pacific coast led to her winning of the National L'Oréal UNESCO National Award for Women in Science in 2022.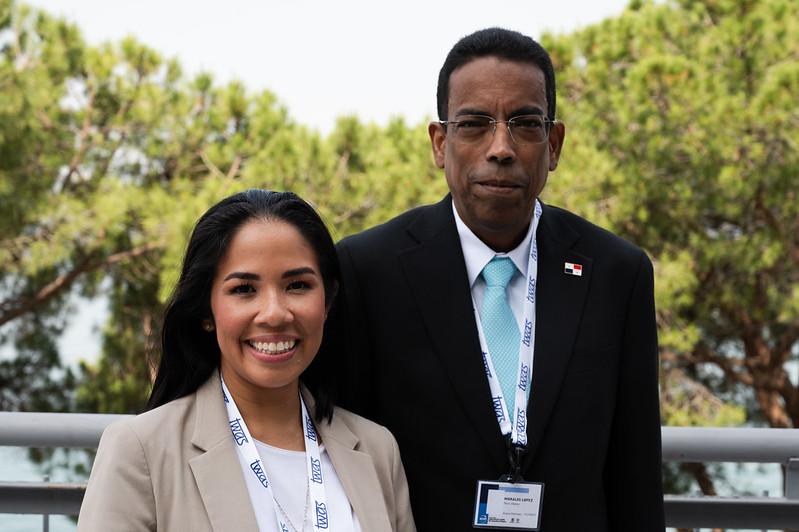 Guerra said that she had been in contact with Morales López, who is stationed in the United States, for years to discuss ocean policy and diplomacy. But until the AAAS-TWAS event, they had only communicated through email and video conferencing. The science diplomacy course was their opportunity to meet for the first time.
"Science diplomacy has great potential in Panama in many fields," added Morales López. He noted that Panama is one of only three carbon negative countries, which absorb more carbon from the atmosphere than they emit, in the world — the other two being Suriname and Bhutan. Yet as a small coastal country with an economy largely based on maritime traffic, Panama is very vulnerable, and thus attentive, to climate change. They like to think of their carbon negative status as something that can serve as a model for other nations, he said, and want to ensure that their green practices continue.
"For this reason we need to exchange experiences with other countries," he said. "Right now we are carbon negative, but that situation can change. We need to make agreements with other countries. And through that work perhaps another country can become carbon negative or at least carbon neutral. This is one of the potential areas of science diplomacy for Panama."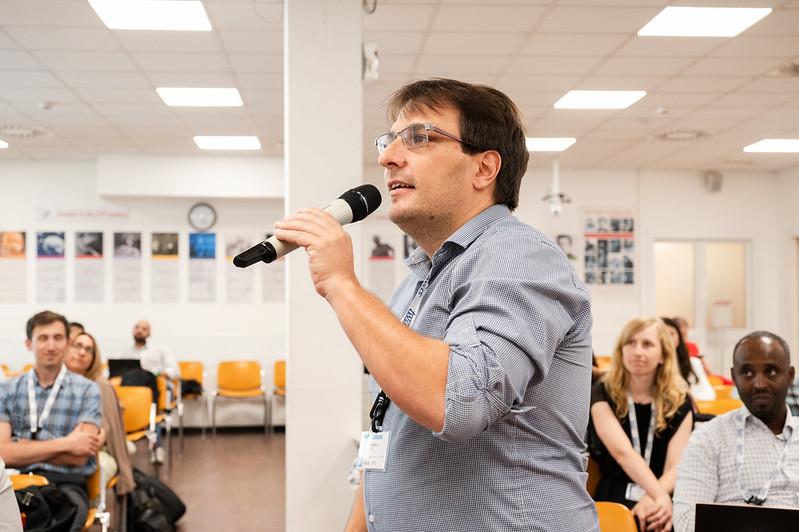 Guerra and Morales López also said that they think of their nation as an open natural laboratory from which researchers from all over the world can learn. Panama already hosts the Smithsonian Tropical Research Institute, the only branch of the Smithsonian Institution outside of the US. Its presence in the country for over 100 years makes Panama an early participant in science diplomacy.
"Science diplomacy will take a leading role in the following steps since everything is connected to the oceans and the coasts," said Guerra. "We need to think in the long run about what's going to happen regionally, and we need an overview of how diplomats will think about the oceans and how scientists can make an impact on the process."
"It's a great experience, where you have so many countries in just one place and you get to know them not from the science side, but personally how they are in a cultural way," Guerra added, reflecting on the course. "Issues in other countries are sometimes very similar to the ones we have, so we can share experiences on what we are dealing with and how we can generate solutions."
Unique education, training, and future plans
Other participant pairs were from Argentina, Bangladesh, Brazil, Cambodia, Estonia, Ethiopia, Moldova, Serbia, Tanzania, Thailand and Ukraine.
Yevheniia Polishchuk, one of the Ukrainian attendees, had a role in launching an initiative for Ukrainian science diaspora by the Young Scientists Council at the Ministry of Education and Science of Ukraine. She praised the course for its array of speakers. "The presentations are full of very important and very helpful information for Ukrainians and for people all over the world," she said.
Esther Mkenda, an economist in the Ministry of Investments, Industry and Trade of Tanzania — a least developed country — said the course exposed her to issues in science diplomacy she'd had yet to encounter. "I also realized that there are some activities that we have already been doing that are science diplomacy, even though we didn't know, because the terminology was a bit new," she added.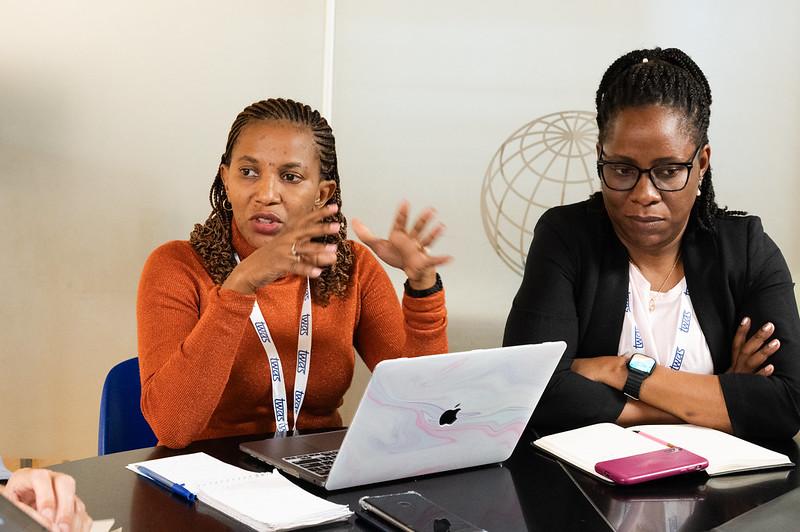 Another attendee, Orakanoke Phanraksa, is the senior advisor for international affairs for the Thailand Science Research and Innovation. An expert in intellectual property laws, Phanraksa was one of four participants from Thailand, who together formed two participant pairs.
Phanraksa and the others are planning to use their experience in Trieste to shape a science diplomacy course of their own that could be hosted in Thailand in early 2024. The spin-off course would serve to elevate science diplomacy in South-East Asia and the surrounding region.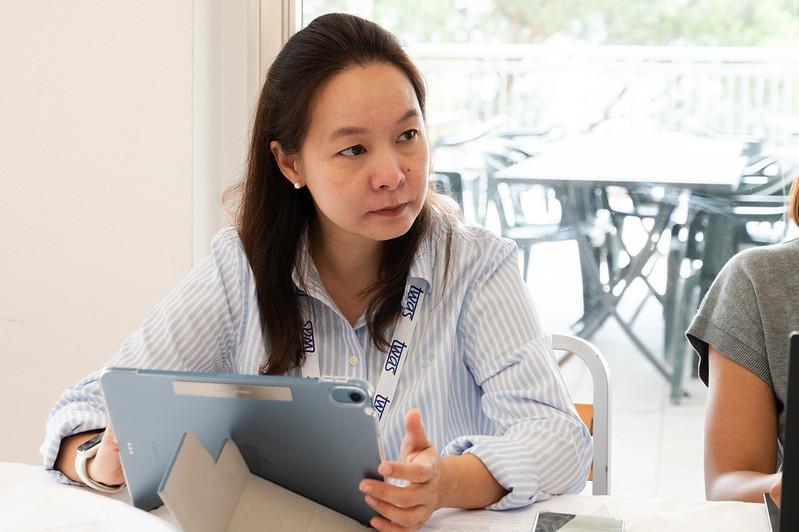 "The science diplomacy concept is brand new to us. And we also see that the concept of science diplomacy would be more available to those countries who are rather advanced," she said. "In middle-income countries, our priority would be to help the economy thrive. And therefore, science and technology would be tools for supporting the economy."
"On behalf of the community of young scientists in South-East Asia, I greatly appreciate Sida's support for this programme," she added. "The fact that many of young scientists from Asia could come and be at this workshop, with Sida support, helps us learn more about this new concept of science diplomacy. And it triggers us to think further about how we need to make a long-term plan to get ready for the concept."
Sean Treacy
---
More photos are available here and on the TWAS Flickr page.